Today was the first day of our new cruise and as we stayed in the same place as yesterday it gave a bit of an unusual feeling. Normally, as soon as everybody is onboard, we race out to open sea and head for our first port. Now we were already there, which made for a nice and much easier pace. Change over days are always extremely busy for the crew but now it was split out in three days; giving some room for R & R in between. The weather forecast had been indicating heavy showers during the early morning and although it rained quite a bit in the distance, Tilbury stayed dry and not much later the sun came through on top of that. So it turned into a beautiful day. As it was not that warm, we looked at very clear skies with very good visibility and that was great for our sightseeing effort during sail away. Although sailing down the Thames can hardly be called picturesque, there is of course a lot of history in and around the river, so there is enough to see and enjoy. Our travel guru Frank is from the London area, so it was a home game for him this time.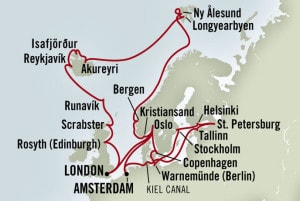 The cruise we started today. As most cruises that we make, it was sold to add a second cruise to it and so the Aug. 14th. cruise to the Baltic has also been drawn in the chartlet.
We did not sail very fast down river and that for two reasons. First we only had a slow speed to maintain to get to our next port of call Rosyth for Edinburgh and secondly with the ebb current going with us, the Thames is very shallow in places and that means going slow to avoid squat. (That is the sinking in of the ship caused by speed and the subsequent increase of the draft. Too much speed can result in too much squatting and then things can go bump….) Going to Edinburgh is one of those distances that are too long for an overnight sail and too short for really a full day at sea. But if I would go full speed we would arrive at the dock at around 1900 hrs in the evening. By that time the ship still has to be cleared and then it is late Sunday evening. Edinburgh is a great city but on a Sunday evening not much is open to explore. Hence it is better to have a full day at sea. Get acquainted with the ship and fellow guests and get up-to-speed with the travel info, lectures and other things organized for the cruise.
While all were enjoying London or Gravesend, I was busy with the cruise. The whole cruise has been in the planning for a while of course; but there is a part 2 that is basically for the captain only. What to do in case of inclement weather, if a port is closed for another reason, if there is no ice near Spitsbergen, etc etc etc. Also is there room in the schedule to offer the guests something extra that is not planned or expected??? It kept me happily occupied, although the navigator has normally a different impression about this, as it includes a lot of chart shuffling. With each dreamed up deviation more and more charts are being pulled out, to see if a certain plan B is possible. The poor man has to put all those charts away again and back in the right folder. Being captain of the "Elegant Explorer", I have lot of leeway to go exploring as long as it fits inside the approved cruise frame. So hopefully the weather will allow a few deviations that will be of interest and enjoyment to all.
Another thing that complicates the cruise schedule, are the Gambling Rules of the United Kingdom. Those regulations cover both the Bingo and the Casino. It basically boils down to two items. When we are coming from or going to another country we can open up but have to close when going outside or coming into territorial waters. That is easy enough. However when sailing along the coast of the UK, the territorial waters get extended to 12 miles from shore, to ensure that we are not "coastal" anymore in the sense of the law. Those 12 miles are not always possible, due to the schedule that we have to maintain or because there is simply no 12 mile distance to shore possible. Then the Casino has to remain closed and guests will simply have to endure withdrawal symptoms of not being able to have their daily Bingo fix. This cruise we do not have much of a challenge as the casino will simply have to open later, but when we go on the Celtic Nations cruise on Aug 28th it will become a real puzzle. However, when I was young I really liked jig-saw puzzles and this is in a way similar.
Tomorrow we will be at sea, staying 12 miles out from the coast and sailing northwest towards Rosyth for our next day call.