MS ZAANDAM (III)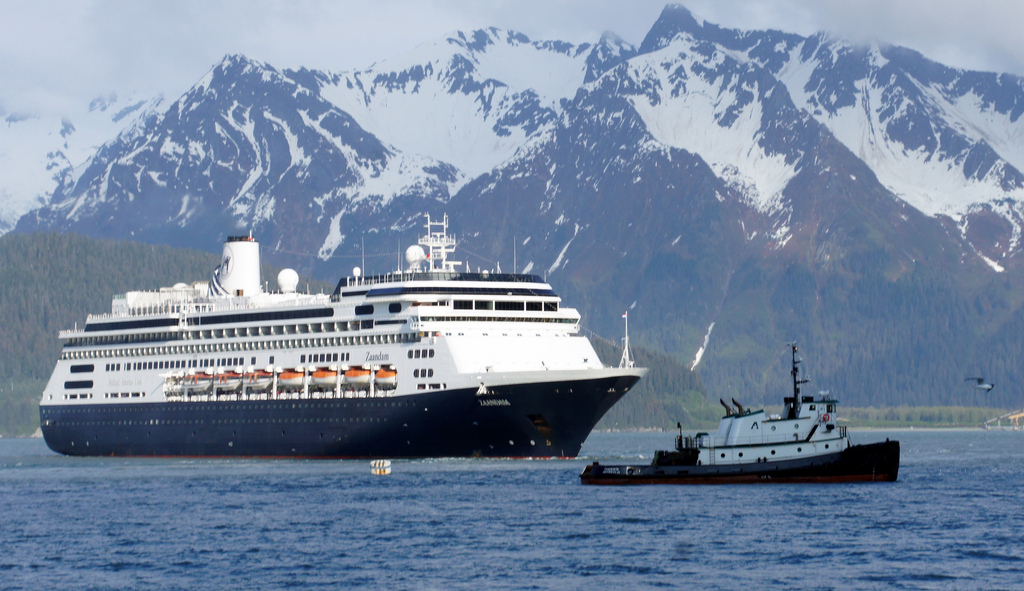 .NAME(S): None
COMPANY: Holland America Line – Westours Inc., Seattle, USA.
TONN. BRT:  60,936        NRT:   31,224                DWT: 6150
BUILT AT: Fincantieri Cantieri, Navali Italiana SPA,  Maghera, Italy.
BUILT IN:  1999                                                       YARDNO: 6036
ENGINES: Five 12 cyl.GMT-Sulzer  12 ZAV40S, to two Cegelec syncho drive motors of 2 x 13 MW
ENGINE OUTPUT:  57,960 Hp./ 43.2 MW.          PROPS: 2 Pitch (5.5 meters)
SERVICE SPD: 20.2 Knots.                                    MAX. SPEED:  23 Knots.
LENGTH.O.A:  238.00 Meters.                               LENGTH B.P.: 202.00 Meters.
BEAM OA: 32.25 Meters.(34,44 at bridge)              DEPTH: 33,175 meters (deck 10)
DRAFT: 7.8 Meters. At 26,580 Tons.
PAX.CAP: 1432  max. 1846 in 716 cabins. ( one penthouse, 28 suites, 169 deluxe, 522 standard)
CREW:  647 max. in 359 cabins.
SISTERSHIPS:  Volendam  Part of the R-Class Including ms Rotterdam VI and ms Amsterdam III
NAME BACKGROUND: Town North of Amsterdam
REMARKS:  2 bow/ 2 stern, 1.720 KW each. (2307 HP) 2 single bearing spade rudders by yard.
Top funnel – keel: 54,600 meter. Air draft 46,80 meters.
——————————————————————
 HISTORY:
Constructed of steel as a purpose built cruise ship. Based on the hull size of the previous S-class. Cost to built US $ 300 mln. Ordered on 12 July 1996. with a delivery set for April 6,  2000. Owners: Hal Antillen N.V. Netherlands Antilles, with Bahama flag for the building and transfer to Dutch flag after delivery. Started cutting steel on 30 April 1998. First keel section was laid in the building dock on June 26. 1998. First block in dock 24 Sept. 1998. Coin under the mast on April 29, 1999.  Floated out of building dock on 30 April 1999.
On 11 May 1999 it was announced that both ships were delayed, due to previous delays on shipyard newbuildings and strikes. The ship is now scheduled for delivery in February 2000 with a maiden voyage set for 26 March 2000.   Dock trials were held in November 1999
Technical sea trials were held on 4/5 and  January 2000. Official trials were held on 20/23 January 2000, ship was then reflagged to Dutch Registry, HAL Antillen (Holland America Line) Rotterdam.
Official delivery to the owners on 8 April.Departed from Venice on 18 April calling at Malaga and arrived at  Ftl. 28 april. There the ship was officially  dedicated on  4 May at 15.20 by the Olsen twins Mary Kate en Ashley.
On May 6 it departed on its 10 day -official – maiden voyage and then assigned to sailing all year around in the Carib. Next season she spend the summer in Alaska.
Autumn 2005 SOE drydock, with the addition of a two story youth centre behind the funnel, the extension of the Ocean Spa above the bridge, and the remodelling of interiors.