Bouman, Coenraad biography pending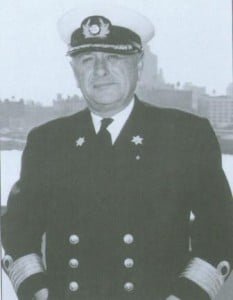 Captain Bouman was as commodore the first master of the ss Rotterdam V
Captain Bouman was born on 1 September 1897 at Maassluis and sailed for the first time with Holland America as a cadet on the Ryndam in 1915.
Promoted to Commodore with the arrival of the ss Rotterdam.
He was made an officer in the Order of Oranje Nassau during the maiden voyage of the ss Rotterdam in 1959, which he considered to be more of an honor for the ship than for himself.
He was planning to retire on 23 may 1961 after making his final voyage on the NA. However he was asked to stay on the Rotterdam until September 29.
Then retired on September 29 1961 from the ss Rotterdam. He  officially left the company on the 7th of October after 46 years with the line. He settled down in Oegstgeest with the plan to catch up with his reading.