Verhoog, Pieter H. G.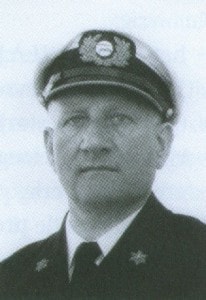 Captain Verhoog was a ships master in the 1940's.
Captain Pieter Verhoog sailed for Holland America for 42 years. He retired in the spring of 1953. Upon his retirement as commodore of the company, he was made an Officer in the Order of Oranje Nassau. (This is a Dutch version of the British OBE) 
 One of the captain's hobby's was, the life of Christopher Columbus and he had figured out that the most likely place where Columbus had made his landfall in the new word, was the Caicos islands. There are many theories about were Columbus exactly landed and nobody is completely sure. Most people think it is San Salvador Island in the North East Bahama's but several other islands lay claim to that fame as well. With the current running along the whole eastern boundary of the Bahama's, Columbus could have landed anywhere.
However Captain Verhoog thought that it was the Caicos and had announced this accordingly during an interview. This brought the whole gang of "pro Sal Salvador" proponents into action and for awhile there was quite a heated  discussion going on in the New York Times.