Heymans, Edouard Guillame Adolphe.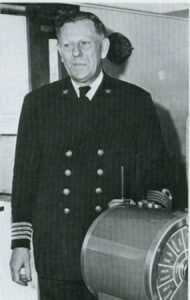 Captain Edouard, Guillaume, Aldophe, Heymans was born on the 14th.  Of June 1910 in Schaerbeek Belgium.
 He joined HAL as a cadet on 30 July 1929.
 4th officer on 22 September 1933
3rd officer on 2 January 1936
2nd officer 7 Augustus 1937
Chief officer 8 December 1946
Captain 4 April 1951
While in command of the cargoship Kerkedyk he arrives on 22 march 1956 in New York while towing the Arendsdyk. This ship had a damaged reduction gear and had no own propulsion..
 After 32 years at sea he becomes captain of the Maasdam in 1961. Then he is promoted to the ss Rotterdam in 1963.