Vlietstra, Siebe.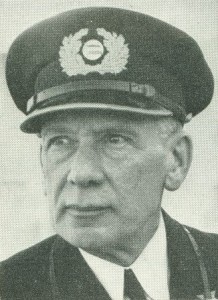 Capt. S Vlietstra was a shipsmaster in the 1940's. He retired as commodore from the company
Vlietstra Siebe Commodore.
 Captain Vlietstra sailed for 42 years for the company and retired as Commodore in 1948.
He went to sea in 1906 as a cadet on the Potsdam, and was promoted to his first command in 1917. This was the cargo ship Beukelsdijk of which he was in command for exactly 5 hours. The ship was docked in Puerto Rico and seized there by the Americans for the war effort. This happened under the right of Angery which gave countries the right to seize ships, laid up in their ports, and to use them for the war effort. This happened in 1917 when the USA decided to intervene in the first World War. 
The captain returned with many other HAL crew to the Netherlands and then had to wait 5 years before he was given another command. As the Netherlands was neutral during the First World War, the HAL crew, being Dutch, could not continue to man the ships, unless they took American citizenship. HAL lost several ships during this war and so the captain had to wait until new ships were added to the fleet and a position became available.
He was in command of the Drechtdyk when WW" started and as the ship could not get out, he was stuck for 5 years in the Netherlands.
 He arrived for the last time in Rotterdam on 12 November 1948 with the ss Nieuw Amsterdam, having been promoted to Commodore on board the flagship the previous year.