Eulderink, Willem Hans. biography pending
The following is from the 1983 bio that was used by the company, when Captain Eulderink was selected to command the Noordam on its maiden voyage. the black and white photo is from the same year.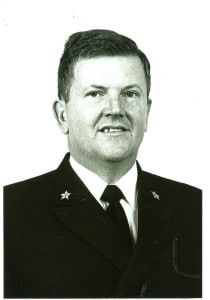 While still in high school, Captain Hans Eulderink had already explored Belgium, Luxembourg and Germany, all countries bordering the Netherlands, on bicycle trips with school friends during summer vacations.
He enjoyed this so much that at a young age, he decided that later in his life he had to find a profession in which he could travel beyond these countries and see a lot more of the rest of the world, other people and cultures.
Therefore, he decided to become an airline pilot. But when the time came to begin that education, he found that he was a year too young to start. Because of this, he took the other opportunity and went to the Merchant Marine Academy in Amsterdam. After finishing this school, he applied for a position with Holland America Line in Rotterdam. He started sailing as an apprentice deck officer on HAL ships in August 1956, first on cargo ships and later, while he was working his way up through the ranks, on passenger ships.
In March 1979, he was promoted to captain, with his first command on the passenger ship Volendam. After the Volendam, other commands were on the Prinsendam, Veendam and Statendam IV.
In 1984, Captain Eulderink was chosen to bring out the new Noordam from the shipyard in France on her maiden voyage. He then sailed on that ship for eight years, with a short intermission on the Westerdam.
In August 1992, Captain Eulderink went to Italy for the building of the new Statendam V, brought this ship out on her maiden voyage from the Italian shipyard in January 1993 and since then has had her under his command, with one intermission on the new Maasdam in 1994.
During his years of service with Holland America Line, Captain Eulderink has sailed the company's ships to almost all corners of the world and considers sailing his hobby, with meeting so many nice and interesting guests on board the passenger ships as a welcome and pleasant break in his hobby.
Captain Eulderink found an understanding wife in a ship's nurse on one of the Holland America Line ships. They reside in a village located in the center of Holland. The Eulderinks have a daughter and a son.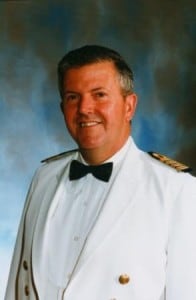 As will be well know by the old time guests of the company, Capt. Eulderink passed away shortly before his retirement. He was on the last leg of a World Cruise voyage when he was taken off the ship and called back to the hospital at home for further tests. Not long after that he passed away.  I had the privilege to sail with him as 3rd officer for a few years including the first two years of the Noordam 1984 to 1986.   I will add some anecdotes about that later, as Captain Eulderink, nicknamed "Eul" was a great seaman but also a great character.  For the moment I will leave it with the words of Mr. Kirk Lanterman:
To: All Employees                                                                   July 20, 1999
Passing of Captain W. H. Eulderink
It is with great sadness that I announce the passing of Captain Willem Hans Eulderink.  Captain Eulderink succumbed to cancer at the Academic hospital in Utrecht Holland this morning.  He is survived by his wife, Annelore, his daughter, Liesbeth Christine and his son Hans.
Captain Eulderink served Holland America Line for 43 years and was our most senior Master.  His distinguished career encompassed the captaining of numerous new builds, world cruises and internationally recognized "ship's of the year."  His professionalism, dedication and always present good humor will be missed by all who had the good fortune to work with and for him.
Cremation services will be held Saturday morning and the family has requested that in lieu of flowers a donation be made to the Cancer Fund in Captain Eulderink's name, the address of which will be communicated shortly.