MS OOSTERDAM (I)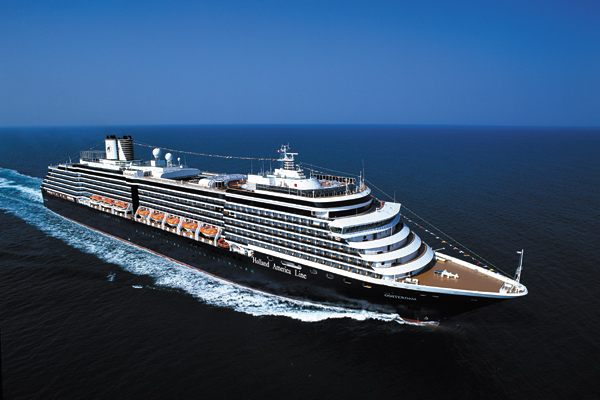 PREV.NAME(S): None
COMPANY: Holland Armica Line Westours Inc., Seattle.
TONN. BRT: 81.769        NRT:   41,640                DWT: 7,200
BUILT AT: Fincantieri, Cantieri, Navali, Italiani Spa. Maghera, Venice.
BUILT IN: 2003                                                                YARDNO: 6076
ENGINES:. Three 16 & two x12ZAV40S Wartsila diesel engines in two separate engine rooms connected to an diesel electric propulsion and one LM2500 aero deritive gas turbine generator set by S & S Energy Products. (CODAG system)
ENGINE OUTPUT: 51.840 KW.                            PROPS: 2x pod. (17.6 MW each)
SERVICE SPD:  22 knots.                                          MAX. SPEED:  24 knots.
LENGTH.O.A: 285.24 meters. 934.4 ft.           LENGTH B.P.: 254.00 Meters.
BEAM OA:  32.25 meters. (panamax)               DEPTH: 10.8 meters. (Bulkhead deck)
DRAFT: 7.80 meters. (design) at 45,072.5 tons
PAX.CAP: 1848 lower berths max. 1968 in 924 cabins  69% balconies and 85% outside.
CREW:  842 in 468 cabins.
SISTERSHIPS: Vista Class Zuiderdam  Westerdam, Noordam, Arcadia,  Queen Victoria, Queen Elizabeth
NAME BACKGROUND: Named after the compass ships series for 1938. although that class did not have an Oosterdam as the ship meant to be named that way became the Zaandam (II)
REMARKS: panamax ship.  26550 cub m. bunker cap. 3 bow thrusters at 1900 KW each.
HISTORY:
Constructed of steel  as a purpose built cruise ship. On 7 October 1999 Carnival Corporation ordered two new cruise ships with the option of three more. 85% of the cabins to be outside and 80% to have verandahs. Two external lifts at each side will cover 10 decks. Delivery summer of 2003. The series was originally to be called project 9000 after project 8000 (joint venture between Carnival, Costa and HAL) fell through In December 2000 the series was renamed in Vista class after a competition among employees.
On 6 March 2001 the first two names for the series were announced, with newbuilding nbr. two to be called Oosterdam. Delivery planned for June 2003. The keel was laid on Wednesday, January 16, at the Fincantieri Shipyard in Marghera, Italy. Floated out for first time on 18 November 2002 and now scheduled for delivery on June 27, 2003.
On March 11 2003  announcement came of  a revised maiden voyage date of August 3, 2003. Caused by supply issiues at the yard. The ship's first two scheduled sailings, July 10 and July 22, were cancelled and her maiden voyage now departed from London (= Harwich) on August 3, 2003.
On 2 June 2003 it was announced that HRH Princess Margriet of The Netherlands will serve as the godmother for Oosterdam, The dedication will take place in Rotterdam and would coincide with a July 28-30 maritime celebrations of the port.
At 11,00  hrs. on 11th July, the Delivery of Protocol  for the m.s.Oosterdam was signed at the Fincantieri shipyard in Marghera, handing over the ship to the Company. The handover was combined with the keel-laying of the Cunard "Queen Victoria ".
The Oosterdam, was re-flagged to Dutch registration on the 16th July and left for the open sea on the 17th, bound for Southampton, U.K. (24th.) (Slipped her last line today at 14.30 on 17 July 2003 to the strains of Beethoven's "Ode to Joy".)
Baptised on 29 July 2003 at 4 pm. by HRH Princess Margriet of the Netherlands in Rotterdam alongside the old HAL cruise terminal.  The ship was bow to bow with the company flagship the ms Rotterdam (VI) . The princess cut a line which released a magnum bottle of champagne from the bow of the Rotterdam to smash against the hull of Oosterdam.
A flock of white doves burst into the sky and confetti showered down as a huge Dutch flag unfurled from Oosterdam's bow and a US flag unfurled from Rotterdam.  Then started 7 and 12 day cruises in Europe.
After first addition of cabins: 1916 pax. In 958 cabins 82,348 brt.