Brandenburg, Henricus J. biography pending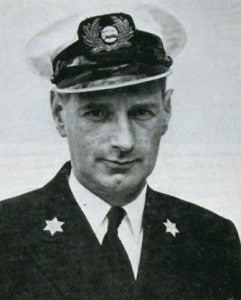 Name:  Henricus J. Brandenburg.
Born:  24 June 1921 at Hoek van Holland.
early years, family and education still unknown.
IF THERE IS ANYBOYD OUT THERE WHO CAN HELP TO FILL THE BLANKS. PLEAE CONTAT ME ON Captalbert1@aol.com
In Dutch, english, German or whatever, I will respond.
What I know sofar:
Sailed for six months as sailor o.g. on the ss Randwijk of Erhardt en Dekker during WW II the idea was to jump ship in Sweden. Did not succeed.
Then to Maritime academy and back to sea on the Stadt Dordrecht of the Halcyon Line also sailing to Sweden. This time he managed to jump ship in the port of Lulea.  While trying for 18 months to get to England he worked locally.  Lumberjack, an house servant and spend some time at the maritime academy in Gothenburg on request of the Dutch Government who needed signal men and radio officers.  Made his first attempt to England in December 44 by means of a Liberator plane, which slid of the run way, broke the nose wheel, then smashed the  gun window in the nose and all the snow came in. All crew escaped via the bomb hatches.
Jan. 1945 he managed to get to England and from there per Queen Mary to NY. Assigned to the Japara of the Rotterdam Lloyd. He had sometime during his period in Holland followed a course with the company so he felt sort of at home. The plan was after his leave in Jan. 1946 to join that company as 4th. Officer. He was then asked to join as 4th. Officer with HAL.
Training at the maritime academy in Rotterdam.
Date:                    Function:                            Ship:                                    Wages and/or remarks.
01 Feb. 1946       4th. Officer                         Sloterdyk                            at NY.
GAP
20 May. 1952     Chief Officer                      Aalsdyk.
GAP
01 Jan. 1955       Chief Officer                     Aagtedyk (joined 06 Jan. at Amsterdam)
GAP
23 Mar. 1957      Chief Officer                      Westerdam                        until 21 apr. 1958
GAP
14 Jul.    1958     Captain.                              Abbedyk.
GAP
15 may 1970 Appointed Harbour Master of the port of Rotterdam.
Last update: 22 November 2023