Welters; Donald
Captain Donald Welters joined Holland America in the 1950's.  He was Master on the Holland America cruise ships from the late 1980's to the mid 1990's.
He was born on  16 Oct. 1935 and passed away on 24 May 2020.
I am gathering information about his career, which is not easy as the HAL archives from the 1980's and 1990's are far from complete.
Any family out there, who reads this, can you please help to put his career on paper ?  Photo's info (especially a copy of his seamans book) would greatly help.
Please contact me on Capt.Albert1@aol.com
What I know so far:
He attended  the Kweekschool voor de Zeevaart between 1953 and 1954 and then joined Holland America Line
As cadet he was assigned to the ms Sloterdyk in 1955.
After returning to school to obtain his 3rd mate certificate, he rejoined Holland America on 15 August 1958 and was promoted to 3rd officer in 1959.
Then he must have returned to school around 1960 to obtain his 2nd mate certificate as in 1962 he is promoted to 2nd Officer.
Then promotion stops  as Holland America was no longer expanding its fleets with the end of the Trans Atlantic service and also as he decided to stay with Holland America when the cargo part was sold off in 1975, it was a long wait.
Somewhere in this period he must have  married as  his wife is noted in 1970 as  Helena Looij in 1970  with a daughter called Stephanie.
On 15 Aug. 1980 he celebrates 25 years with Holland America but officially still as a 2nd officer. But in the same year he  becomes acting Chief Officer with full promotion in 1981.
more to follow: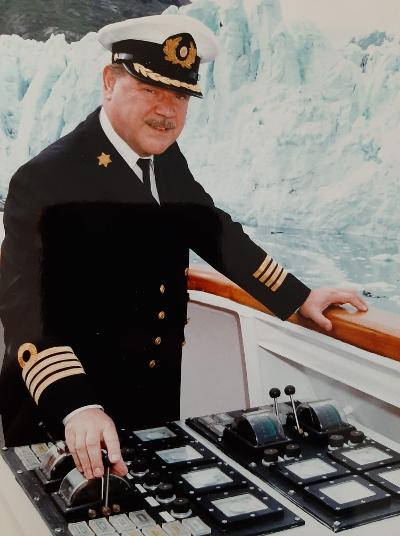 Captain "Don" Welters. Seen here on the bridge of the Westerdam (II) in Glacier Bay.
Time line:
Date:                           Function                     Ship                            Remarks
1955                           Cadet Officer          Sloterdyk
22 Aug. 1958          4th. Officer               Eemdyk
GAP
21 may 1976          2nd  Officer                 Prinsendam
GAP
xx Aug. 1980           Act. Chief Officer     Statendam     Until 13 Mar. 1981
GAP
01 Sep. 1983           Chief Officer             Veendam
GAP
04 Jan. 1985           Chief Officer            Rotterdam         until 13 April (World Cruise)
25 May 1985            Chief Officer         Rotterdam          until 13 June
GAP
Last updated 31 May 2021