MS VOLENDAM (III)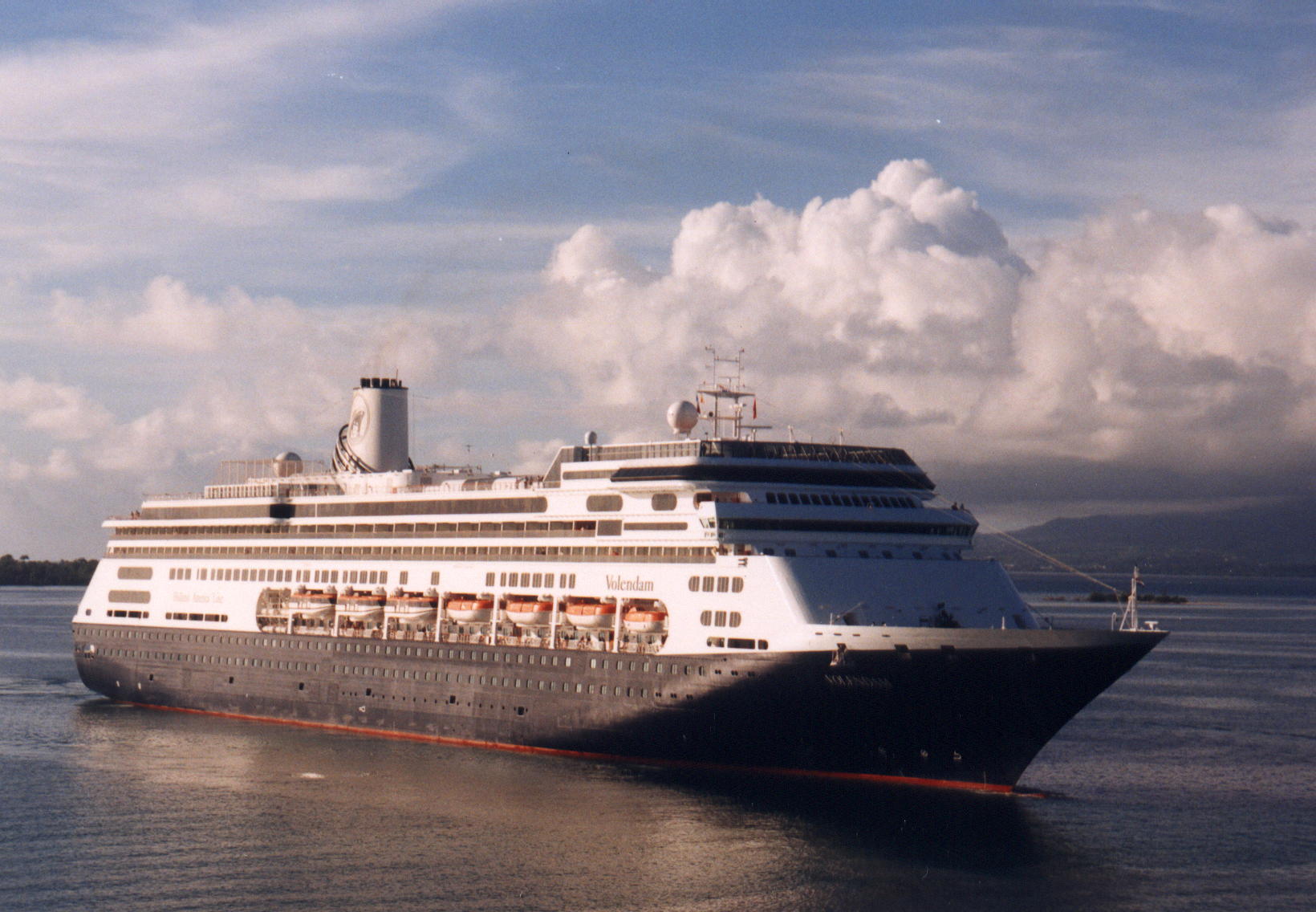 PREV.NAME(S): None
COMPANY: Holland America Line – Westours Inc., Seattle, USA.
TONN. BRT:  61,214        NRT:  31,224                 DWT:  6,150
BUILT AT:  Fincantieri Cantieri Navali, Italiana, Marghera, Italy
BUILT IN:  1998                                                       YARDNO: 6035
ENGINES: Four 12 cyl.GMT-Sulzer V40, to two Cegelec synchor drive motors  of 2 x 13 MW
ENGINE OUTPUT:  57,960 Hp./ 43.2 MW.          PROPS: 2 Pitch (5.5 meters)
SERVICE SPD: 20.2 Knots.                                    MAX. SPEED:  23 Knots.
LENGTH.O.A:  238.0 Meters.                                 LENGTH B.P.: 202.00 Meters.
BEAM OA: 32.25 Meters. (34.44 m. at bridge)        DEPTH:
DRAFT: 7.80 Meters ar 26,580 displacement in sea water.
PAX.CAP: 1432  max. 1846 in 716 cabins (in 29 suites, 168 mini suites, 384 outside and 139 inside 27% have balcony's)
CREW:  647
SISTERSHIPS: Zaandam II Part of the R-class including the Rotterdam VI and the Amsterdam III
NAME BACKGROUND: Third ship with the name/Fishing village in the West part of Holland
REMARKS:  2 bow/ 2 stern, 1.72 mw each. Two spade rudders.
——————————————————————
 HISTORY:
Constructed of steel as a purpose built cruise ship. Based on the extended hull size of the previous S-class. Cost to built US 300 mln. Ordered on 12 July 1996. with a delivery set for May 1999. The cutting of the first steel commenced on 1 July 1997 followed by the assembling of the first modules on 13 October 1997. The keel was laid on 27 Febr. 1998. and on 18 September 1998 at 1700 the mast stepping & coin ceremony was performed by Mrs. Carla Cherubini Testa, wife of the 2nd. man of Fincantieri. Immediately after the dock was flooded and the ship floated up and was removed from the dry- dock the next day.
Delivery for 6 July 1999 with a maiden voyage on 29 July 1999 going to the Canadian Maritimes. This was later postponed until 24 August. On 10 May it was announced that both ships were delayed, due to previous delays on shipyard newbuildings and strikes. The ship is now scheduled for delivery on 15 October 1999, with a maiden voyage set for 12 November.
The Maasdam took over the initial planned Canadian Maritime cruises from July 29. The Volendam was delayed as the sub contractor for the cabin building went bankcrupt.  Ship left from Italy with 250 workmen on board to complete wall panelling and air conditioning.
Ship was baptised on 12 November by Chris Evert, the formal tennis star and left for her maiden voyage a 10 day Caribbean  voyage from Ft. Lauderdale.
On 5 Oct. 2002 while on her first Orient cruise, she became the biggest ship ever to sail under the Tokyo rainbow bridge. In 2005 she was one of the HAL cruise ships used as floating hotels for the Super Bowl XXXIX in Jacksonville. In November 2005 the ship  went through the SOE upgrade by adding a two story Youth Centre behind the funnel, interior remodelling and an extension to the Ocean spa.