MS EURODAM (I)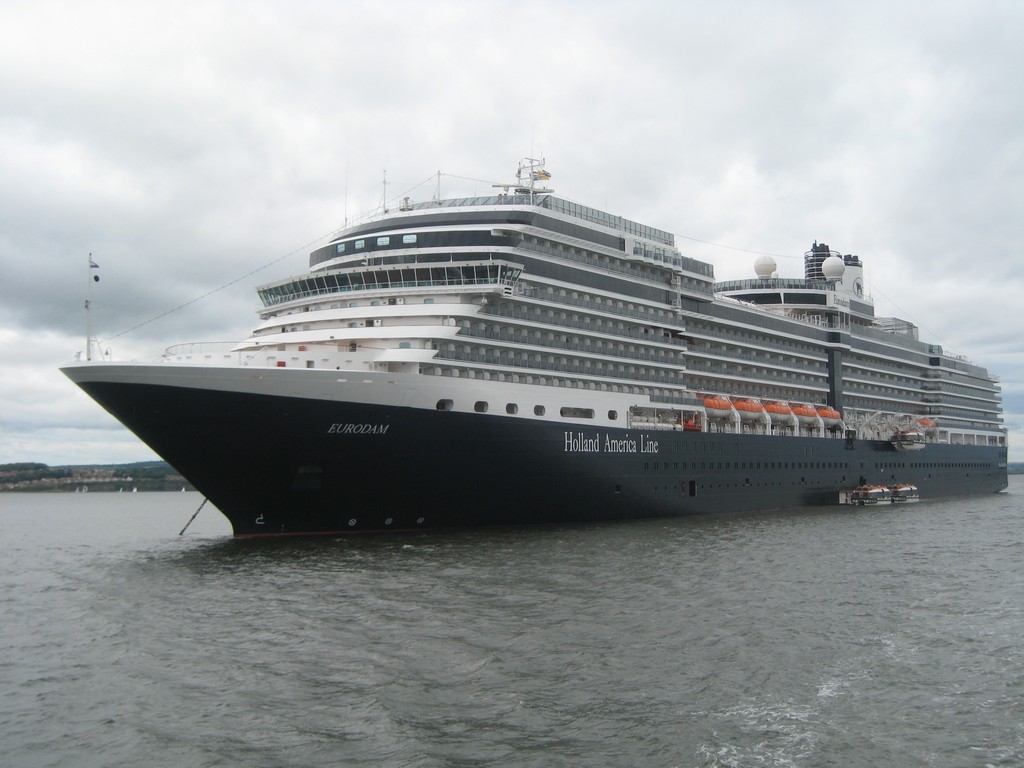 PREV.NAME(S): None                                                   CALL SIGN: PBWQ
COMPANY: HAL Antillen NV, Rotterdam, The Netherlands.
TONN. BRT:  86,273       NRT:       53,711             DWT: 8006
BUILT AT: Fincantieri – Navaili Italiani Spa Marghera, Venezia Italy
BUILT IN:  2008                                                                 YARD:  6149
ENGINES: four 12 cyl and two 8 cylinder MAK M 43 C by Caterpillar Marine Power systems. 
ENGINE OUTPUT: 64,000 KW./47000 hp       PROPS: Two 17.6 MW Azipods.
SERVICE SPD:   21.5 knots.                                        MAX. SPEED:  23.9 knots.
LENGTH.O.A:  285.28 meters / 935.6 Ft           LENGTH B.P.: 254.18 meters / 833.9 Ft.
BEAM OA:  32.2 meters.                                                DEPTH:
DRAFT:  7.8 meters as designed.
PAX.CAP: 2104  max. 2611 in 1052 state rooms
CREW:  929.
SISTERSHIPS:  Signature Class, ms Nieuw Amsterdam.
NAME BACKGROUND: The name was chosen by Stein Kruse to honor the European and Dutch heritage of the company.
REMARKS:  Three bowthrusters, each rated at  2533 HP or 1.9 MW.
HISTORY:
Constructed of steel as a purpose built cruise ship. Cost to built Us 450 mln.  The order placed on 14 December 2005 for 2044 guest ship of 86000 tons with a delivery in the summer of 2008.  The name Eurodam was announced on 8 November 2006. The first steel was cut on 9 Febr. 2007 and the keel was laid on 27 March 2007.
Sea trials in March 2008 and she was handed over on 16 June 2008.
On 12 March 2008 it was announced that Her Majesty Queen Beatrix of the Netherlands would baptise the ship. This took place on 1 July 2008 after the ship arrived in Rotterdam coming empty from Southampton. After the ceremony  the ship commenced her official maiden voyage on 5 July  with a ten day trip to West Scandinavia and East coast of Great Britain.
TO BE UPDATED TO THE CURRENT DAY