Chevalier, Everhard Martinus.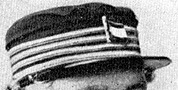 This is a captain from the very early days of the company. Hence it has not been possible (yet) to find a photo or any other illustration of him. His biography will show that he came from the sailing ships engaged on voyages to the Dutch East Indies and then leaves again after 13 years.
If any family, relatives of descendants read this biography, would you please contact me on CaptAlbert1@aol.com. I am hoping for some more information, family lore and maybe one or more photos??? (Editor)
Captain Chevalier was born on 02 October 1836 in the town of Dordrecht. This place is located to the east of Rotterdam but due to its connection with the open sea had a considerable port and sailing fleet. Accompanied by shipbuilding yards and other industries supporting the deep sea fleet. Quite a few ships of this fleet sailed on regular voyages to the Dutch East Indies.  And far as we have been able to trace, he spent his time on these ships before joining HAL, while going through the ranks and while attaining command.
His father was Everhardus Martinus Chevalier, also a merchant navy captain and his mother was Catharina Juriana Gips. The Gips family was a locally prominent family and there was a shipyard operated by one of the Gips branches. One of the descendants of those made it to Director of Holland America in the later days. It is not known  if there was any family connection. He remained a local boy and at least until 1879 he continued to live in Dordrecht. There was at least one (older) brother called Willem Jacob Leonard.
Because of his unusual (French) last name he and his family were not so difficult to trace and a note was found that on 22 December 1886 he was accepted (membership number 498) as a member of the Free Mason Chapter of Dordrecht. Freemasons were in Calvinistic Holland not that prevalent but among sailors it was not uncommon (See the history of Captain Slierendregt who was buried by his fellow brethren in New York when he passed away on board)
On 14 March 1867 the joins the local "Seamans college" of Dordrecht called "Tot Nut van Handel en Zeevaart" (To the benefit of Trade and Seafaring) and is given pennant number 44. Captains were allowed to fly these pennants from the Ships mast so fellow seafarers could see who was in command when their ships would pass each other.  He remains a member of the college until his death on 08 September 1903.
Here he was a full member and as the college was also a mutual insurance company, he paid in money that would later benefit his family. Thus we can find an entry on 01 September 1903 that  300,– in Dutch Florins had been paid out to his widow when he dies.
On 30 Nov. 1876 he married Teuntje van der Hoeven, (Born on 13 Feb. 1851, passed away in The Hague on 25 June 1929) There was a  son, who received exactly the same name as his grandfather and his father and was born on 07 Feb. 1879. As was not unusual in a sailor's family, the father was at sea and the registration at the local council offices was made by the attending doctor. This son also went to sea later and was noted as a Navigation Officer of "a Steamship company" when married on 08 February 1909 at Flushing Hendrika Lijntje van den Heuvel (born Koudekerke on 14 Oct.1888) He did not sail for Holland America. There is a notification in 1882 of the birth of a daugther Christina Cornelia Johanna. But as there is no further information this might have been a Still Birth which was not unusual in those days.
Captain Chevalier also had another daughter, Catharina Juriana, who was born on 02 March 1890 and later married a gentleman who was a shipbuilding engineer. Thus the whole family was deeply connected with ships. This daughter passed away on 27 Dec. 1974 in the town of Doorn.
Sofar the Family Tree.
Everhardus Chevalier shows up for the first time in the mustering books in 1851. The town of Dordrecht and the related administration has nearly complete records of all who sailed from this town in the mid19th. Century. On 04 April he mustered as "jongen" = deck boy, or sailor O.S  for a monthly wage of 4 Dutch Florins on the frigate "Bernard Hertog van Saksen Weimar" with Captain Pieter Hendrik Hazewinkel (from Veendam) in command for a voyage to Batavia, Dutch East Indies from Dordrecht. (One of the descendants of this captain would later be Captain J.A Hazewinkel of the Holland America Line. See his entry on this website) A round voyage to Batavia would normally last a year but could take much longer .
The next entry in the registers is from 29 November 1855 when he signs on a 3rd mate (wage Dutch Florins 24,–) on the Dutch frigate "Bato"with Captain W.F.Broeksmit in command. Again for a voyage to Batavia.
Next voyage starts on 06 September 1858 as 2nd mate (wage Dutch Florins 40,–) on the barque "Cornelis Gips", with Captain Marinus van Rijn van Alkemade  in command for a voyage to Australia, Java and London.
Promotion continued and on 15 June 1863 he musters as first mate on the sailing ship "Kosmopoliet I "with Captain Jan Koning in command. He remained with this ship for two more voyages, again going to the Far East from the town of Dordrecht.
Then promotion to Captain follows and on 16 March 1867 he is given command of the barque "J.C.Schotel". A year later he departs for a second voyage with this ship with on board 25 Dutch infantry soldiers which were complemented with 80 African recruits when the ship calls at George d'Elmina. That voyage lasts 163 days as the ship arrives at Batavia on 07 January 1869. The return voyage is much faster as by April his next voyage starts from Dordrecht.
On April 10, 1869 he is assigned as captain to the barque "Kosmopoliet II" again sailing to Java in the Dutch East Indies. Here the outbound voyage only lasts 86 days and on board are 2 officers, 6 petty officers, and 125 soldiers of the Dutch Government. (These soldiers signed normally on for a period of 5 years and would thus not return to Holland until 1874 if at all) Also on board 37 civilian passengers.
Upon return home after another voyage he is given on 22 July 1871 command of the new barque "Kosmopoliet III" (1348 tons and the largest ship ever built at Dordrecht until then) going on the same voyage as before.  The voyage outbound lasts 79 days. The Kosmopoliet III was such a large ship for the time that it could not sail from its home port Dordrecht but had as turn over port Rotterdam and it is from there that the ship sails on 22 July.  On board Chief Officer or First Mate S.J Krijt who would later also join Holland America (see his biography on the website)
Upon return, he joins the Holland America Line and is assigned to the ss Maas in March 1873 as Chief Officer. On 22 March 1874 he is given command of the ship, as due to the fleet expansion Captain Deddes moves to the P. Caland
The ship is later renamed to ss Maasdam but by that time he is assigned to the ss Schiedam starting from June 1877 onwards. He is the first captain of the ship and as there is a gap between March and the maiden voyage it can be assumed that he was sent to collect the 3 year old ship from Liverpool. This ship was the first ship which was "on loan" to the company being owned by an independent company outside the HAL. Prince Henry (nicknamed" The Sailor") of the Kingdom of the Netherlands was one of the investors. He was also the patron of the NASM itself. When the company had sufficient funds the Schiedam was entered into the fleet wholly owned.
On 15 July 1882 he transfers to the ss Zaandam (I). Captain Chevalier must have been held in high regards by the company as this is the 2nd ship that he brings into service. Was the ss Schiedam 3 years old, this is a brand new ship and the first ship built by the company in the Netherlands. She was assigned to the Amsterdam to New York service and he remains with this ship until 23 June 1885 when he signs off in Amsterdam and leaves the company.
Then we can trace his career on the shore side by means of the Newspapers as he now became a public figure. First it is announce that on 1 June 1884 Mr. C.M. Chevalier has been appointed as Director of the local provincial ferry company  in the province of Zeeland as its Director. The county or province of Zeeland operated a local ferry service between the town of Vlissingen (Flushing) and the town of Breskens with four paddle wheelers to provide a regular service across the estuary of the Westerschelde (The body of water which gives access to the port of Antwerp).
His 12 years with the HAL had certainly given him a good insight in how to run steamships and the Westerschelde was a body of water which could give the North Atlantic a run for its money during bad weather.
On 06 September 1887 he is appointed to represent a local district on behalf of the "Independents"(*). He mentioned again on  10 July 1899 when with a 100% vote he chosen again to continue his councillors job.
(*) In the Netherlands the political parties where all connected to a religion and thus most had a Dutch Reformed or Roman Catholic background, The independents were groups of voters who either had a labor background or where not affiliated to a church. As we know Captain Chevalier was a Free Mason and thus automatically belonged to this group
Then suddenly it is announced on 9 September 1903 that the day before Mr. E.M Chevalier has passed away at the age of 67. No reason was given but as he was still in function at the ferry company and a councillor it must have been un-expected. He was buried in a simple ceremony on 11 September 1903 at the local "General Cemetery" at Flushing. This coffin as accompanied by members of his local Freemasons Lodge  L'Astre deL'Orient and fellow councillors.
Sailing List:
Date:                     Function     Ship
04 Apr. 1851        Deck boy    Frigate" Bernhard Hertog van Saksen Weimar"
29 Nov. 1855       3rd Mate       "Frigate Bato"
06 Sep. 1858        2nd Mate      Barque "Cornelis Gips"
15 Jun. 1863        First Mate    Barque "Kosmopoliet I"
16 Mar. 1867        Captain       Barque "J.C. Schotel"
10 Apr. 1869        Captain       Barque "Kosmopoliet II"
22 Jul 1871          Captain       Barque "Kosmopoliet III"
Transfers to HAL in early 1873
Xx Mar. 1873       Chief Officer Maas                   90 guilders
22 Mar. 1874        Captain       Maas                    200 guilders
Xx Jun. 1877       Captain       Schiedam              250 guilders
15 Jul. 1882         Captain       Zaandam               250 guilders
23 Jun. 1885                  Dismissed.
Transfers to shore function.
Sources:
Website: Piets scheepvaart index.
Holland Amerika Lijn Stamboeken
Website of H.W.G. van Blokland-Visser
Information by E.A Kruidhof (especially the genealogy dates)
Dutch newspaper information via Search engine Delpher
Authors archive.