MS NOORDAM (IV)
PREV.NAME(S): None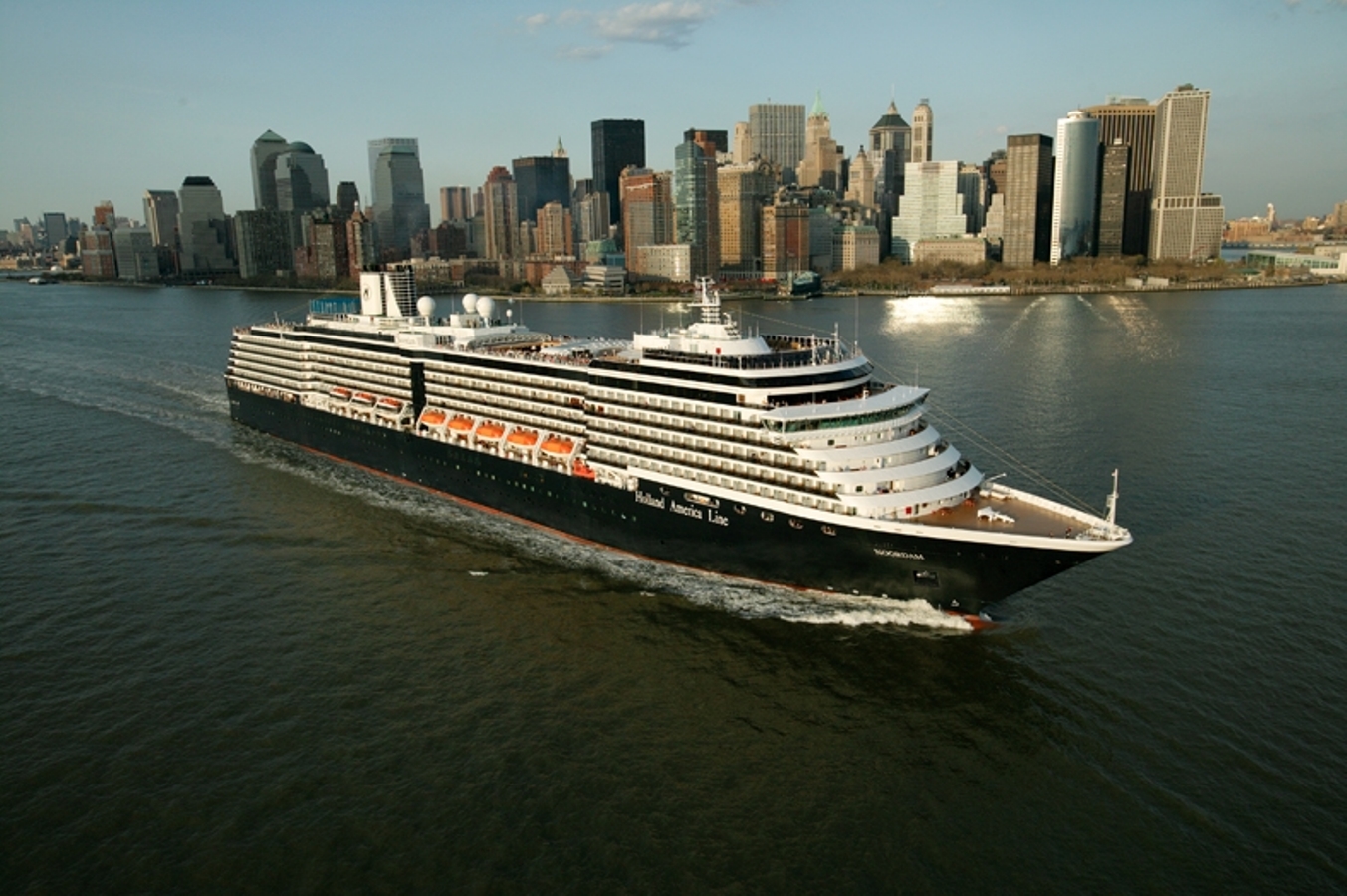 COMPANY: Holland America Line Westours Inc., Seattle.
TONN. BRT:  82,318      NRT: 41.640                   DWT: 10.965
BUILT AT: Fincantieri Cantieri Navali Italiana Spa, Maghera, Italy.
BUILT IN: 2006                                                                 YARDNO: 6079
ENGINES:. Three 16 & two x12ZAV40S Sulzer – Fincantieri motor engines in two separate engine rooms connected to an diesel electric propulsion and one LM2500 aero deritive gas turbine generator set by S & S Energy Products. (CODAG system)
ENGINE OUTPUT: 70.480 Shp/51,872 KW    PROPS: 2x pod.
SERVICE SPD:  22 knots.                                             MAX. SPEED:  24 knots.
LENGTH.O.A: 290.00 meters. 951 ft.                  LENGTH B.P.: 254.00 Meters.
BEAM OA:  32.25 meters. (panamax)                  DEPTH: 10.8 meters. (Bulkhead deck)
DRAFT: 7.80 meters. (design)
PAX.CAP: 1848 lower berths max. 1924 in 959 cabins  69% balconies and 85% outside.
CREW:  842 in 468 cabins.
SISTERSHIPS: Zuiderdam, Oosterdam, Westerdam, Arcadia (P&O), Queen Victoria, Queen Elizabeth
NAME BACKGROUND: Named after the four compass point class of 1938.
REMARKS: panamax ship.
——————————————————————
 HISTORY:
Constructed as a purpose built cruise ship. On 7 October 1999 Carnival Corporation ordered two new cruise ships with the option of three more. 85% of the cabins were to be outside and 80% to have verandahs. Two external lifts at each side will cover 10 decks. Delivery was set for the summer of 2003. The fifth ship and last option was ordered on 11 April 2000 with a delivery for late 2005.  After a Carnival New building slot re-shuffle with the yard, the new building of the ship was delayed to spring 2006.
The series was originally called project 9000, after project 8000 (joint venture between Carnival, Costa and HAL fell through) In December 2000 (?) the series was renamed in Vista class after a competition among employees. .
On 15 January 2004 the company announced that the ship would carry the name Noordam (IV). The hull was floated out for the first time on 1 April 2005.  She was handed over on 31 Jan. 2006 at 10.30 GMT. Built under Bahamian flag, she was reflagged directly after the handover.
The ship left Venice on Feb 3rd. and arrived in Boston on 16 Feb.
From there she sailed some inaugural events and was christened on 22 Feb. 2006 at New York by american actress Marlee Matlin.
The same day the official maiden voyage commenced with 11 sailings from New York to the Caribbean, followed by summer cruises in Europe.
On 6 June 2006 the ship rescued 26 people from a capsized Aegean ship between Greece and Turkey. After some political problems (mainly about the issue in which national waters had the rescue occurred) the people were landed in Kusadasi, Turkey.
TO BE UPDATED TO CURRENT DAY.