MS WESTERDAM (II)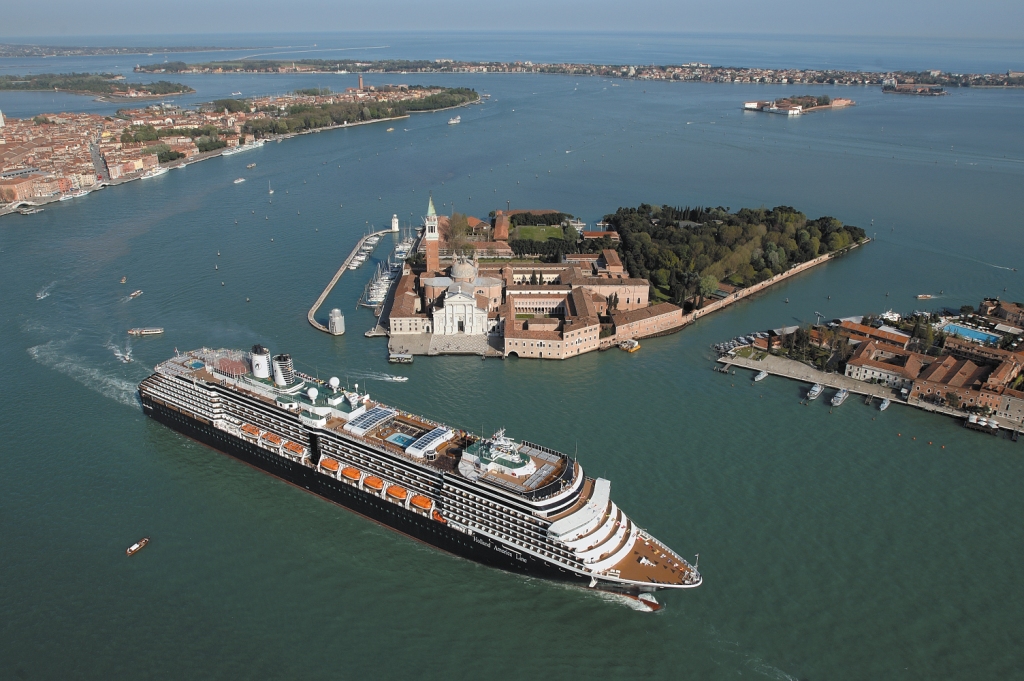 PREV.NAME(S): None                                                        IMO  nbr: 9226891
COMPANY: Holland America Line Westours Inc., Seattle.
TONN. BRT: 81.811        NRT: 41,640                         DWT: 10.965
BUILT AT: Fincantieri Cantieri Navali Italiana, Maghera, Venice.
BUILT IN: 2002                                                                        YARDNO: 6078
ENGINES: Three 16 (15,448 hp) & two x12ZAV40S (11,586 HP) Sulzer –Fincantieri motor engines in two separate engine rooms connected to an diesel electric propulsion and one LM2500 aero deritive gas turbine generator set by S & S Energy Products. (CODAG system)
Total: 888,306 HP / 64,840 KW ( including Gas turbine)
ENGINE OUTPUT:  65.840 W                                          PROPS: 2x pod at 17.6 MW / 24,000 HP each.
SERVICE SPD:  22 knots.                                                      MAX. SPEED:  24 knots.
LENGTH.O.A: 285.22 meters..                                           LENGTH B.P.: 253.91 Meters.
BEAM OA:  32.25 meters. (panamax)                             DEPTH: 10.8 meters. (Bulkhead deck)
DRAFT: 7.80 meters. (design)
PAX.CAP: 1848 lower berths max. 2388 in 924 cabins  69% balconies and 85% outside.
CREW:  842 in 468 cabines.
SISTERSHIPS: Zuiderdam, Oosterdam, Noordam, Arcadia (P&O),  Queen Victoria, Queen Elizabeth
NAME BACKGROUND: Named after the compass class of 1938
REMARKS: panamax ship.  Call sign PINX  air draught 50,00 meters. 3 x 2400 HP bowthrusters,
——————————————————————
 HISTORY:
Constructed as a purpose built cruise ship. On 7 October 1999 Carnival corporation ordered two new cruise ships with the option of three more. 85% of the cabins were to be outside and 80% to have verandahs. Two external lifts at each side will connect 10 decks. the delivery is set for winter 2004. In January 2000 two more sisters were ordered with one delivery was planned for every nine months. The series was originally to be called project 9000, after project 8000 (joint venture between Carnival, Costa and HAL fell through) In December 2000 (?) the series was renamed in Vista class after a competition among employees.
The keel was laid on 23 May 2002 and on July 19, 2003 HAL's the ms Westerdam floated out of her Dry-Dock in the Fincantieri Shipyard in Italy.  On 17 October 2003 the ship had a fire on board during the fitting out stage. The blaze broke out in the aft section of Deck 7 and was extinguished in less than four hours with no injuries. It did not delay the delivery date. As was confirmed on 1 February 2004. Insurance company's estimated the total damage to over US 50 million and all caused by a careless welder.
Ship went on technical trials on 9 Jan. 2004 and these were followed by the official trials between 7 and 11 Febr. These turned out to be shortest and best Fincantieri had ever done, ending two days earlier than scheduled and the ship returned to the shipyard on 09 Feb.
On 9 April it was announced that the Dutch Actress Renee Soutendijk(*) was going to be the Godmother of the ms Westerdam, dedicating the ship in Venice on April 25, 2004
The ship was delivered on 15th.  of April at Venice but stayed under the Bahama flag until the flag change on 19 April. Registration for HAL Antillen NV (Holland America Line) Rotterdam.
While docked the ships hosts a dinner for World Cruise passengers on April 19 when the ms Prinsendam visited Venice. Other inaugural events in Venice included a VIP luncheon and yard workers' party on April 17, and a special 3-night inaugural cruise for travel agents and press on April 22.
After the dedication the ship left for the sold out maiden voyage from Venice to East Med.
In December, the Westerdam moved to Florida for the first winter season of Caribbean voyages from Fort Lauderdale. TO BE UPDATED TO CURRENT DAY,
(*) Born in Amsterdam, The Netherlands, in 1957, Renee Soutendijk has appeared in more than 50 films and TV programs. Soutendijk began her: film career in The Netherlands, becoming well-known for playing heroines in the Paul Verhoeven-directed films "Spetters" (1980) and "The Fourth Man" (1983). Soutendijk's first English-language: assignment was as Eva Braun in the made-for-TV "Inside the Third
 Reich." In 1991 she made her first American film, playing the title  character in "Eve of Destruction" (1991), also starring Gregory Hines. She was honored with the well known German film industry's Adolf
 Grimme Prize in 1999. Renee is married to director Thed Lensen and has a daughter, Caro and son Jair.