Jong de, Auke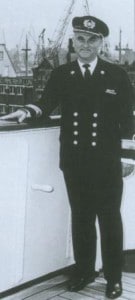 Captain Auke de Jong was a ships master in the 1950 and 60's.
He was promoted to captain of the ms Noordam in August 1955
 On 24 may 1965 he was  appointed to Commodore while captain on the flagship Rotterdam.
 On 27 April 1967 he receives from Loco Burgomaster J.J V.D Lee of the Rotterdam the title of Officer in the order Oranje Nassau.
 He retired as commodore on 22 april 1968 (see photo) and was de last commodore of the company. The company decided not to continue with the title as it found that this was a courtesy title from the old north Atlantic days and the company was going to concentrate on cruising.