Hus, Jacob.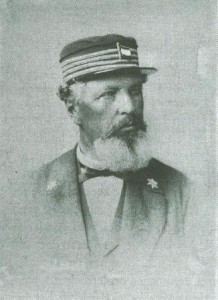 First Captain of the company.
Born on 13 Aug. 1824 in Katwijk (small fishing village North of The Hague). His father was also a Merchant navy captain (Leendert Jacobzoon Hus) and Captain Hus was thus named after his father or his grand father. The name of his mother was Jacoba Maartensdochter Spaanderman and the name Jacoba we see returning with the name of his daughter.  (a)
In 1847, his is then a navigation officer, he marries Trijntje Maartensdochter Schaap. (Whose father is also a merchant navy captain)
Their little daughter has the honor to baptize the ss Rotterdam (I) when it was built as the first company ship in 1871.
Captain Hus was thus the first master of the company when he took the ss Rotterdam on its maiden voyage in October 1872. When Plate Reuchlin went public / on the stock market in 1873 and became Holland America, he was given command of the first new built financed by stock issue. This was the ss W.A Scholten, named after the man who single handedly bought enough stock to pay for a complete ship.
He is first referenced as being a captain in 1853 when he is in command of the Barque "Woltemade"  with Rotterdam registration. In 1857 the first steamship follows, The Levant, owned by the same company. Then in 1872 he switches to Plate Reuchlin the predecessor of the Hal. So by that time he had been in steam for 15 years. This must have made him one of the most steam experienced Dutch Captains from that time. He must have been made an offer he could not refuse to leave his old employer behind. (b)
For the HAL, he commands the ss Rotterdam (I) and the W.A Scholten. With the last ship he makes 7 voyages and then leaves the sea to come a Damage Assessor Expert in the port of Rotterdam in 1875. This was a independent person who assessed on behalf of Insurance company's damage to ships.  He was not the only one who choose this as a 2nd career: his colleague and 2nd captain of the company (Deddes) did the same thing a few years later, and so did a 3rd captain (Landman).  (c)
Captain Hus remained living in the port of Rotterdam after his retirement. Year of Death unknown.
(a) The old hand & the sea.  Book issued about the Katwijk Maritime history and the genealogy of the Owehand and Spaanderman families. issued Rijswijk 1981, 305 pages Hardback with illustrations. ( via mr. John van Kuijk)
(b) Piets Scheepvaart Index.
(c) Memoires of Capt. Deddes.