Captain Bas van Dreumel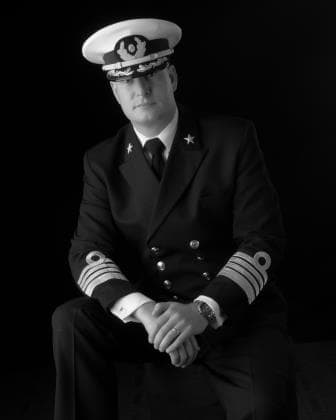 Captain Bas van Dreumel was born in Grave, The Netherlands. Living near the river Maas and spending many holidays with his parents near the sea, his love for ships began at an early age. The river Maas flows directly passed the town which came to prominence as a fortress town in the 16th. century.
There is a famous saying in Holland, "Grave below the Locks". The river Maas is tidal quite far inland and the last tidal measure for the inland river shipping is taken just under the lock Gates. The river Maas has numerous locks in its system all the way from France through Germany to regulate the water level. The Maas is a rain fed river and without the locks it could run dry in the summer time.
At the age of 19, he attended the famous nautical college "Willem Barentsz" on the Dutch island of Terschelling which is located in the far north of The Netherlands. Once enrolled he had the option to spend a year with the Dutch Royal Navy and then to return to the Maritime Academy to finish his studies.
Part of the sea going officer's studies is a cadet year at sea and he joined Holland America Line as an apprentice deck officer onboard the ms. Maasdam in 1995/1996. Then it was back to school to graduate and in 1998 he obtained his 3rd officer license and a Bachelor degree in Nautical & Technical Science.
The ms Statendam while docked at San Juan around the year 2000
He decided to return to Holland America and signed on as a 4th. officer on board the ms Statendam on 07 May 1998 in San Francisco. He worked his way up the ranks, serving on all the types of the Line's passenger vessels.
Promotion to Captain came in June 2012 when he was giving command of the ms Eurodam, the first of the Signature Class ships. The then was a spell on the Vista Class ms Noordam, the S- class, the ms Veendam, and then back to the Signature class, becoming the Master of the ms Nieuw Amsterdam.
Then life came full circle for Captain van Dreumel as in  March 2017 he became Master of the ms Maasdam, where he once started out as a Cadet.
He transferred from the ms Maasdam to our flagship the ms Rotterdam in April 2018.
According to Captain van Dreumel:
"Sailing for Holland America Line is a privilege and a pleasure. We have beautiful ships, an excellent crew and an enormous variety of itineraries"