1922 Dinteldijk (I)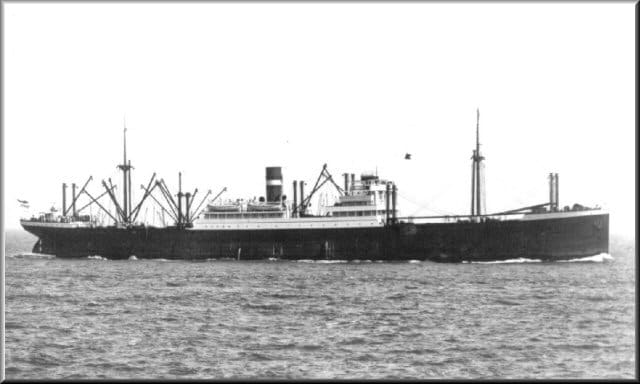 PREV.NAME(S): None
TONN. BRT:  9,399           NRT: 5,814                 DWT: 11,968
BUILT AT: Harland & Wolff Limited, Govan, Glasgow, Scotland
BUILT IN: 1921                                      YARDNO: 515
ENGINES: Two single acting four stroke eight cylinder Burmeister and Wain Diesels by A/S Burmeister and Wain Shipyard and Engine works, Copenhagen Denmark, built in license by H&W,
ENGINE OUTPUT: 5,333 Bhp.           PROPS: Two  (fixed)
SERVICE SPD: 12 Knots.                    MAX. SPEED: 13 Knots
LENGTH.O.A: 152.7 Meters                LENGTH B.P.: 147.83 Meters
BEAM OA: 18.99 Meters                      DEPTH: 10.91 Meters.
DRAFT: .
PAX.CAP: 12 in lower beds
CREW: 64
SISTERSHIPS: Drechtdijk.
REMARKS:  Bunker capacity 1203 tons of oil at 20 tons a day.
——————————————————————
HISTORY:
Constructed of steel with two full decks as a cargo vessel. The ship was launched on 1 September 1921 and delivered by the yard on 10 February 1922 as the first deep-sea motorship for Holland America. Commenced her maiden voyage on 27 February 1922 on the route Rotterdam – San Francisco. Sailed on this service for her whole career. In 1926 her passenger capacity is increased to 18 by reducing the number of crew on board to 30.
The ship was docked at Rotterdam when the Netherlands were invaded by Germany on 10 May 1940. Here it is hit by incendiary bombs and the forward part of the vessel burns out.
The vessel remains laid up until it is seized by the German occupier on 13 September 1944 to be used as a blockade ship in the Nieuwe Waterweg (New Waterway). Sunk for this purpose on 23 September in the main fairway near the town of Maassluis. The remaining hulk is raised in the months May and June of 1946 and scrapped.