1997 Rottterdam (VI)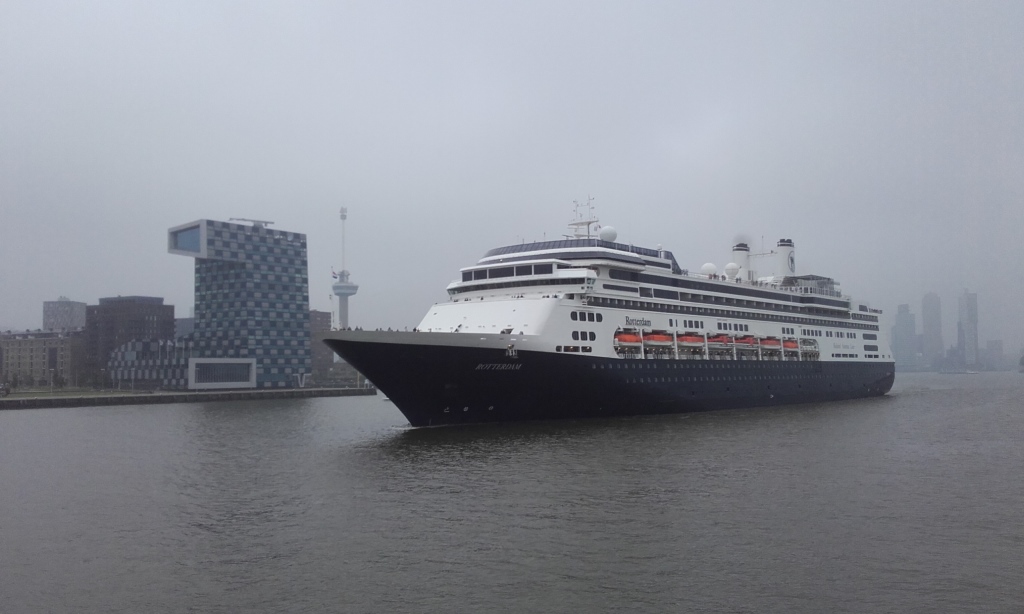 PREV.NAME(S): None
TONN. BRT:  59,652        NRT: 29,017                  DWT: 6,604
BUILT AT: Cantieri Navali Fincantieri Maghera, Venice, Italy.
BUILT IN:  1996                                                           YARDNO: 5980
ENGINES: Five Sulzer 16ZA V40 S diesel engines coupled to two 18.75 MW ABB cyclo
converter eletric propulsion motors.
ENGINE OUTPUT: 5 x 11,520 Kw./ 50.932 HP.     PROPS: Two (pitch)
SERVICE SPD: 22.5 Knots.                                                 MAX. SPEED:  25.0 Knots (contract)
LENGTH.O.A:  237.90 Meters.                                LENGTH B.P.: 202.40 Meters.
BEAM OA:  32.25 Meters,                                           DEPTH: 34.44 Meters (bridge)
DRAFT:  7.80 Meters, at 33,872 tons displacement.
PAX.CAP: 1316, 1702 Max. in 658 cabins, 382 outside.
CREW:  630, max. 647 in 358 Cabins.
SISTERSHIPS: Amsterdam
REMARKS:  two bow and two stern thrusters, 1900 KW each, two Spade rudders.
——————————————————————
HISTORY:
Constructed of steel as a passengership with six full decks and ordered on 14 January 1995 under the code name project 'Fastdam'. Steel cutting commenced on 8 January 1996 with the first modules being assembled 12 days later on 20 Jan. 1996.
The name was officially announced on 13 March 1996. The keel was laid on 3 June 1996 and the hull floated out on 23 December 1996. Delivery was planned for 30 September 1997. The same date as the old ss Rotterdam (V) was going out of service.
As the  ship could not be finished in time, the first two cruises were cancelled. Ship was delivered on 7 November 1998 in Venice and she started with a  cruise in the Med,  reg. for Windsurf Ltd., Nassau Bahama flag.
On December 7 the ship was brought under the Dutch flag, with a registration for Hal Nederland NV, Rotterdam.
Princess Margriet of the Netherlands, patron to the Dutch Merchant Navy dedicated the ship on 9 December 1997 at Ft. Lauderdale.
The ship went through a major refit in autumn 2005, resulting in an altered appearance above the bridge, due to the extension of the Ocean spa area. Total investment approx. 40 mln. US. After rebuilt with cabins aft: 104 in 702 cabins  61,859 brt.