Captain Marco Carsjens.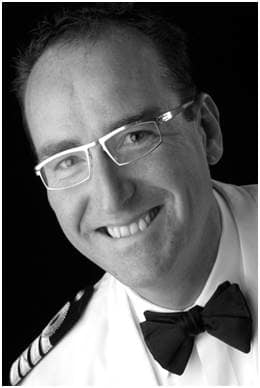 He was born in Rotterdam in the Netherlands and comes from a seafaring family as his father also sailed for Holland America Line in the 1950's and 60's.
The heritage goes even further back as there was a Carsjens in command of a Dutch frigate in the 1850's.  This ship, the frigate Aerd van Nes, is quite famous in the Dutch Sea History, as on its return from Australia it foundered on the Great Barrier Reef and it took the Captain, F.M Carsjens, nearly half a year to get his 24 crew safely home to a port in the Dutch East Indies.
With so much seafaring history in the family it is not surprising that at an early age he aspired to have a career at sea. In addition, his younger brother has chosen a similar career path and is also working for Holland America as a staff captain.
Growing up in the Netherlands, he attended the Nautical College in Rotterdam. After his cadetship onboard the brand new Ryndam, he returned to school in 1995 to complete his education.  He graduated with a bachelor's degree in both navigation and engineering the following year.
In 1996 he boarded the ss Rotterdam as a fourth officer and has since made a steady progression through the ranks. He was invited to be part of the set up team during the building of the ms Rotterdam, ms Zaandam, ms Zuiderdam and ms Oosterdam in Venice, Italy.
Promotion to Captain followed in January 2011 and between 2013 and 2017 he was the proud master of the fastest ship in the fleet, the flagship ms Rotterdam.
He recently 'tied the knot' in April 2016. Both he and his wife, when not working onboard HAL ships, enjoy exploring a diverse range of destinations, experiencing new cultures and tasting local cuisines.
When an opportunity arises he likes to try his luck on the golf course.
In 2017 Captain Carsjens was assigned to the ms Noordam.