Seymour Narrows slack tide was at 01.45 but I asked the pilot to go through as soon as the current fell below 4 knots. That is a safe situation and it saved me 30 minutes. I was in a hurry, as the run to Juneau is a tight one and also I was expecting inclement weather that could slow us down. So the pilot did what was asked and as soon as we were through we cranked the ship up to the warp speed of 21 knots. By 08.00 hrs. we were out in the open area of Queen Charlotte Sound and here we were greeted by a very deep and long running swell coming in from the Pacific Ocean. It took several hours before we were far enough away from it before the ship became steady again. Quite a few guests were not in a very happy state because of it. Nothing I could do here, as it is the only way to go.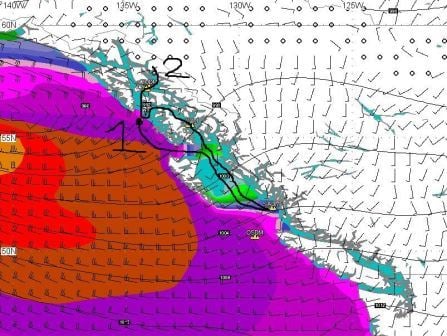 Route 1: is the outside route going through a bouncy North Pacific. Route 2: is longer but is in the shelter of the inside Passage, except at Cape Decision where route 1 and route 2 meet. So a good name for that location – Decision- .
For the rest of the day I monitored the swell conditions on my weather computer and decided in the end that for the Alaskan side I would take the Inside Route. That route is a bit longer and it might delay our arrival in Juneau but I was not planning to expose the guests to 12 hours of rocking and rolling while taking the shorter outside route. My head office concurred and thus we will sail tonight to the Ketchikan pilot station to pick up the pilots and then go via Snow Passage instead of Dixon Entrance and the Pacific. That might mean that I will arrive a little bit later than scheduled but that is still much better than arriving with a ship full of sea-sick people. It won't be good for my fuel conserving efforts though, as I will have to keep the pedal to the metal all the way.
Other news of importance. The Head Office has reviewed my outstanding leave and came to a total of 7 months of paid leave still to take. With the new Maritime Labor Convention 2006 coming in, it means that excessive leave accumulated has to be taken. I was quite happy to keep it all in the bank until far in the future, and retire early, but that cannot be done anymore. That means that my contract is going to be cut short and I will go on an extended leave. I will leave the ship on 29 September in Vancouver and stay home until 16 March 2014.
In a way I was looking forward to doing the South Pacific Cruise but regulations are regulations. What is a pity is that the next efforts for our school in Corinto will go on a lower level as I was the person who bulldozed through all the red tape (and customs issues) to get our school in Corinto spruced up. Heavily supported of course by TEAM Statendam. Luckily we will have another call on 7 April 2014 and I will have a month to prepare for it. Hopefully we can then do the chair project, otherwise that will be the 25 November 2014 call before that comes to fruition. Several Ladies on my blog have indicated that they are willing to mediate between manufacturers, either in the USA or in Nicaragua for those chairs. My thanks to them. For now we have to put it on the back burner. TEAM Statendam will do a few things of course while they are there, including getting the next two classes on board for lunch.
So a bit of an un-expected change in the events. My apologies to those blog readers who were looking forward to sailing with me on the South Pacific Cruise, I am sorry to disappoint you. I was looking forward to that cruise as well, as the Hotel director and I had already put a lot of time and effort in preparing a lot of extra things. But the laws have to be obeyed and thus I will go on leave.
Not that I will be bored. I am lagging behind with my promise of updating my blog site with more ships and captain's bio's and I promise to catch up with that. I did not have the time, as during my last leave my dear mother passed away at the blessed age of 97 years.
Tomorrow we are in Juneau, and it will all depend on the current that I am hoping for if I can still get there on time, or that we will be delayed due to the wobbly weather of today and late tonight when we cross the border to Alaska. Juneau itself should be a very good day.