And we were lucky with the weather; the cooler temperature caused by a cool wind just kept the air/sea temperature in balance and we did not have any white clouds descending on the water and thus on the ship. Life is full of these little surprises and we cherish them if we get them. The run from Bar Harbor to Halifax is quite tight as far as the average speed is quite high so instead of putting the pedal to the metal and hoping that we will arrive on time, we arrive at the official arrival time of 09.00 hrs. something that in the old days, low cost fuel days,  would have been 08.00 hrs. But to keep the time in port the same we also depart an hour later and thus the amount of quality time in Halifax remained the same.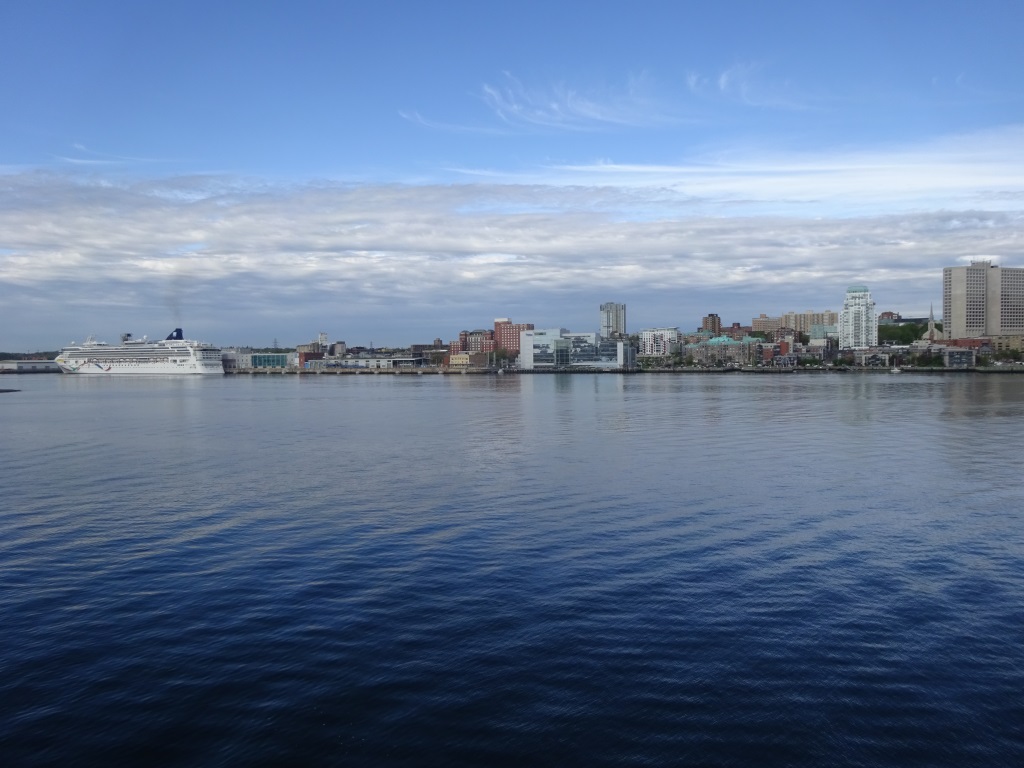 Arrival in sunny Halifax. The Norwegian Dawn is just docking as we are approaching the dock behind her. She was coming from somewhere else but was clearly struggling to get alongside by 08.00 hrs. Whatever the schedules both ships docked under a sunny sky with very little wind and that gave a beautiful day. There have not been very many of them yet in Halifax so all the tourist guides, bus drivers and security personnel had an extra spring in their step and an extra wide smile on their face. It seemed that even the arrival bag piper was making more noise than normally.
I know about everybody smiling as I hopped off the ship for a while to go to Pier 21. I do not get the chance very often but I had a nice gap between trainings and inspections. Life is never perfect so while last time we were docked at Pier 21, I could not get away; this time the ship was at 22, I could get away, but I had to walk from terminal to terminal. The Halifax cruise terminal has three gangways, based on the average length of 3 medium sized ships. Medium size meaning smaller than the Zaandam which is with 60,000 tons not that big anyway.  But based on that philosophy the two ships in port today where big. So they put the Norwegian Dawn on 20 and us on 22.  Pier 21 got the stern of the Dawn and the bow of the Zaandam. Security in all its wisdom then puts boundaries around everything and thus to get from pier 22 to pier 21 you have to walk out of the terminal go along the sidewalk, past the hop on hop off bus and then walk into pier 21. Luckily we had a glorious sunshine day, as this is not much fun when it rains.
Pier 21 is where the Emigrants from Europe arrived to become Immigrants to Canada. Some opted for Quebec or Montreal but most came to pier 21. Holland America was big on emigrants so our ships did call here very frequently. As a matter of fact it was the Nieuw Amsterdam (1) which opened Pier 21 in 1921 as the new Canada immigrant terminus. Now it is a museum and very worthwhile visiting. They also have a research center with very friendly staff who do their best to accommodate but they have a challenge. The challenge I ran into.
Because of the historical side to this blog there are a lot of requests coming in about when people emigrated on which Holland America line ship and how. That I can normally answer as I have all the voyages of all the HAL ships on file. But when it comes to what happened after landing it becomes more complicated. For the USA side you can go to Ellis Island records and they are fairly complete. For the Canadian side there is Pier 21. But………….. they only have public access to records until 1935. That is good and  you can do that also on line. Landing records from later years are not open to the public but you can to ask for it. Thus a Lady popped up on my blog with a question about her mother entering Canada on the Groote Beer, (Great Bear or Big Dipper in English. Called that way as the ship was one of the 3-ship Constellation class Dutch emigrant ships) A Dutch Government owned emigrant ship that was purchased by Holland America. Her mother came to Canada in 1955 and thus could not get at the records.
Luckily the friendly team at Pier 21 came to the rescue with a form. Fill out the form and a few months later a copy of all the records that the Canadian Governments have about the immigrant will fall on the door step. The museum also has a bookshop and that is somewhat fatal for my pocket money as then purchases have to be made. As usual every bookshop in Halifax goes Titanic-Mad with books about the Titanic – Halifax link but there were also some new books about Pier 21 and Canadian Immigration. I think that there are about 20 books out there, some in print, and some out of print. Some are "fluff" for the casual tourist but today I picked up two better ones.
We sailed on time, following the Norwegian Dawn out which was in a hurry to get to St. Johns., while we are heading for Sydney. We should be docked by 10 am. and again the weather should be very nice.  Similar to today.