The wind did not veer as fast to the East as the weather forecast indicated and thus we had the wind blowing on our sb side instead of from behind. That also meant that the swells kept being sustained by this wind and did not abate as fast as I hoped for. That meant that I continued to lose .4 of a knot each hour and that is going to set my arrival time back by about 45 minutes. Nothing to really worry about as we have an overnight stay in Honolulu, so there will be ample time to see the sights and to eat pineapple.  Up North it still does not look very look and the people on Vancouver Island have a few windy days coming at them.  In the centre of the gale the waves are about 25 to 30 feet high giving room for another series of the "deadliest catch" if needed.  We are in a way still lucky as we are only skirting the southern edge of the wave field with 10 to 12 feet high waves. Together with the waves created by the current wind, the total height is about 15 feet and that is just enough for the ship to move about a bit. Still I did not get any reports about guests being sea sick, so all must be well in the world.
The houses are already small master pieces of art now….let alone when "caked" during the christmas cruise.
When you run a cruise ship, you have to have a sort of split personality as you are most of the time busy with more than one cruise. We are now really focusing on the execution of this cruise but at the same time we are already in the advanced planning stage for the Christmas cruise. A fixed feature during that cruise is the show buffets. All very nostalgic with Hansel & Gretel houses made of food and the more elaborate the better. On the ship we cannot build them completely from food stuff so some strong internal support is needed due to the ships movement, vibration and the air- conditioning which dries everything out. Thus we make our gingerbread houses from thin plywood and the kitchen then covers them over with edible stuff. It meant that the Carpenter shop was already in Christmas mood. About 10 small houses in various shapes and sizes are being constructed for buffets that are still a month away. Still better early than not at all, as around the holidays things tend to get hectic for everybody.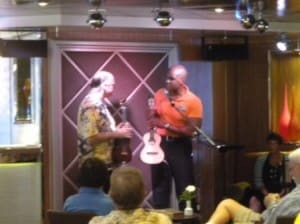 There are various things you can do with a Ukelele, one is playing it…………….. (pictures by roving reporter Lesley)
Another item going today was the battle of the ukuleles. We have Holland America stalwart David Pengelly on board, (I know him since 1986) and through the years he went from Banjo to Ukulele and then branched out into coffee. He has become quite an expert on Coffee and as a result gives very entertaining lectures about the various sorts and of course explains all about the dark secrets of Starbucks. Whatever they might be. However this afternoon, he held a session with our Cruise Director Anthony in The Mix and both had a go at playing their ukuleles.
More action was there in the evening with the Black and Silver ball. We are doing two big balls this cruise and this was the first one. I had asked of the Hotel Director if he still had some penny's left in his budget and we bought a number of silver colored bow ties' for the officers. Our lady officers do not wear bow ties anymore but they can achieve the same with silver jewelry. For me this was preceded by my first "large" captain's table in the dining room.  Normally my table seats 8 guests but I have now expanded it to 12, by having the carpenters put two tables together.  The plan is now to invite our repeat guests for an evening out, starting with the highest numbers. That is this cruise 1584 sailing days with Holland America. With such high numbers, it means that I will never get around to everybody but I am going to give it a try with the top numbers by doing 6 tables.
Tomorrow will be our last sea day before Honolulu and if all goes well, we should be docked by 3 pm. at dock 10, right under the Aloha tower. The weather seems to be returning to regular Hawaii standards, with little wind, and a small chance of a shower and temperatures in the mid 70's.