By 7 am we were docked in Luanda. This place has always been an important port for the region and even Holland America ships were calling there in the 1960's. While HAL was not really an "African" specialist, then it was mainly the export of local products, now it is used mainly for off shore, due to oil exploration, which is becoming very important. As a result the whole bay area in front of the docks was full of Supply Boats when we got in.
The port does not have a dedicated Cruise Terminal; as a matter of fact they are not really focused on cruise ships at all. We are docked at the Cement Terminal and this morning when we arrived Port Security did not even know that we were coming. Somebody forgot to advice somebody, I suppose.  Also immigration was about 90 minutes late but at least then they cleared the ship in 30 minutes. If you expect to find on these sorts of cruises everything well organized on the shore side, then you had better stay home. On these real explorer cruises you have to go with the flow. Whatever that flow is. The fact that we are on some sort of expedition is shown by the requirement of having a valid yellow fever vaccination with you. Thus in the last few days the medical department has been busy ensuring that all the booklets were handed in and checked for validity.  No valid yellow fever vaccination, No go ashore.
Most people took tours today as that was the safest way to see the area. We were advised that the boulevard was safe but warned not to go too deep into the side streets. Since the end of the Civil War, Angola is slowly coming back to normal but there is a very sharp divide between rich and poor and thus there are a lot of people who would like to go from poor to rich in a quick and easy way.  I walked ashore briefly but as we were also warned that taking photos of official buildings etc. is not allowed without permission, I have not much proof to show for it.  If you do take photos and you get caught, a prison sentence awaits or a hefty fine. As I was absolutely not interested in visiting the local prison, so I kept my camera my pocket. The boulevard is about 4 kilometers long and everything of some importance is along this boulevard. Shops, Restaurants, Cafés and a lot of official looking buildings. The oil exploration is bringing lots of money in and everywhere there is construction going on; although I did not get the impression that it was going very fast.  But maybe Monday is not a construction day in Luanda.
It is a real pity that this cruise has been affected by the EBOLA situation which required a number of ports to be cancelled. Thus Luanda is basically the only real Central African port that we visit. There are not that many ports around that we could divert to without running into some sort of issue. When we leave tonight at 10.30 pm. It will be followed by 7 days at sea until we come the Cape Verdes Islands.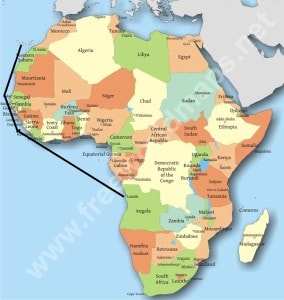 We will first sail on a straight North Westerly line to the corner of West Africa and follow the coast line until we can sail straight to the Cape Verdes. These Islands are located off shore from Africa and are not really any part of the Continent at all as they are volcanic in origin, being located on one of the fault lines in the North Atlantic Ocean. The Canary Islands which we will visit afterwards are a result of the same situation. An open crack in the earth's core, causing lava to come out, which eventually gets so high that a Volcano rises out of the water and turns into a habitable island.
Map credit to: Daniel Feher www.freeworldmaps.net
Mr. Feher makes a lot of maps and charts and for those interested, his work can be found here: http://www.freeworldmaps.net/africa/ …………………
Thus we will have seven days at sea and my colleague and I will have our hands full with our training classes. The program calls for 8 hour days of training and instruction and then we need at least 2 hours in the evening to prepare for the next day.  I am only now starting to realize how specialized the work on a cruise ship is. A lot of people think that cruise ship officers spend their days around the pool, chatting up young and nubile ladies, but our work is as highly specialized as working on a Gas Tanker or in a Nuclear Sub. (Although we have the advantage that we cannot blow up so easily………………) Because of that, new joining officers have an enormous amount of indoctrination work to get through and this course is hopefully a good way to reduce that initial burden.  It should make it a lot easier for the new officers to settle into their job when they get to their own ships.
So tomorrow we are at sea, sailing far away from the African Coast until we come closer again near Liberia in about 3 days from now.