Most people set their clocks to wake up but this morning but they needed their clocks on a very early alarm to beat the local community as they helped out……… At 05.00 hrs. The loudspeakers went on and the local mullah called the faithful for morning prayers.  So  everybody was awake in time for their tours or going ashore. Sometimes, something can be said for having an inside cabin. For those with an outside cabin, they could see the sunrise over the Bosporus and witness the start of a sunny but very chilly morning. Only later it was more bearable but it was very cold to start with.
The pier which can handle 4 mid seized cruise ship is under reconstruction and the race is on to get it all finished before the season really starts. In the meantime the port is looking for more berths and it will be interesting to see what they come up with as current and wind make some of the docks a real challenge to get alongside to.  And cruise ships cannot always wait until the wind has died down. It is very difficult for the smaller cruise ships to find a place when the big boys are in town and anchoring with the local current is not really an option.
As nearly all guests went ashore today, the crew could stand down to a certain extent as well and a large number managed to have a morning or afternoon off, to do some shopping, find free internet or try to find stores even cheaper than the Grand Bazaar. I could be of help here as in the past I had sent crew ashore to get tools and equipment and I still remembered where these little shops were which sell everything you do need, you might need, or what the shop keeper thinks you cannot live without..………. I had advised several crew to try the Big Red Bus tours, which stopped right outside the Gate but they came back and reported that a Taxi ride for 2 hours had been cheaper for the four of them and it had included free tea at the family owned petrol station. To remember for next time.
Because Istanbul is on both sides of the Bosporus there is an enormous number of ferries which criss- cross the Bosporus in all directions. The only rule they have while being on their route, is not to hit anything and it was amazing to see how close they curved around the Koningsdam but also around themselves and all of it at full speed. But it works and the transport system is fast, safe and cheap and goes nearly anywhere in the larger Istanbul area.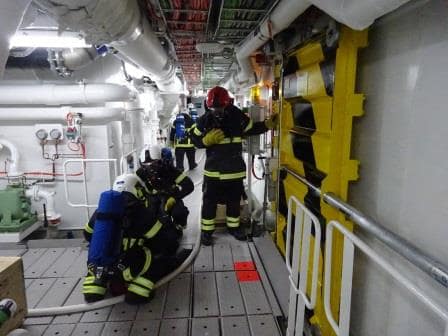 A fire team member opening a watertight door to evacuate a casualty. (We use a 80 kg. dummy of this purpose)
For the crew that was on board and hard at work, they had the option to enjoy the Fire drill of this morning. One of my better creations if I say so myself; tactics, application "and the best way forward" created some heated discussions. Exactly what we aim to achieve. We drill to improve and we can only improve with lessons learned. Today we had an engine store on fire, simulated of course. The fire itself was easily extinguished as there was only carton packaging and no fuel inside. Today the challenge was to reach the fire as several watertight doors had to be opened and closed again to let the crew through while at the same time maintaining fire integrity as much as possible.
We will sail this afternoon at 17.00 hrs. and go the same way back as we came up yesterday. First a scenic sail away, followed by crossing the Sea of Marmara and then a very early morning passage back through the Dardanelles. Most of the monuments are lit up during the night but it is a long "wake" to see them all as they are spread out along the Dardanelles. Still quite a few people were planning to be up for it.
Tomorrow we will have a sea day while sailing down the Aegean Sea on our way to our next port of call, Rhodos.  Sunny weather is expected with temperatures in the mid-sixties. We should be sailing with the wind and that should give a gentle breeze on deck of about 10 knots.
I am still finding nooks and crannies I have not yet explored and could not see during the new build as they were not yet finished. But the ship has its own two Opium Den's on board, although it does not sell Opium but various Asian beers and cocktails. It is part of the Tamarind Restaurant but you do not need a reservation to just go there for a drink. Well Recommended.