The weather was this time in synch with the weather forecast; it did even better than the forecast. Sunny periods came through the cloud cover and the combined wave and swell heights went two feet below what was predicted. As a result the ship hardly moved and I could keep up the speed to go into the plus. I want to be a little in the plus, as tomorrow a wave field is coming down from the north west, courtesy of the bad weather north of Hawaii. If I have enough plus on my side then I can slow down and ride the waves a bit more gently. Easier for the people on board, who at some time will have to start packing, and also as we have the final Officers Ball coming up, it helps when the dance floor stays where it is.  So I am keeping up the speed until we see the larger waves coming.  
We are slowly coming back to the real world. Yesterday we saw our first ships for three days.  First a fishing boat and then later on a cargo ship, not visual, but on the radar about 20 miles away. The AIS plot on the radar told us what sort of ships they were and where they were going.  The fishing boat had as a destination going home, although it was unclear where that was. Not everybody takes the legal requirements seriously and sometimes there are unusual things to be read for destination. I remember when I was with a ship in Greenwich that one of the official governments launches had as destination "from Here to Infinity", no doubt typed in by a civil servant on a 40 year career.
Making the speed has been helped in the last 36 hours by the current. When we sailed from Nuku Hiva we battled against the South Equatorial Current which angled down in a South Westerly direction and directly against us. Then we came under the influence of the Equatorial Counter Current which runs from West to East near the equator. That gave us a knot in the back. Now we are under the influence of the North Equatorial Current but it runs straight from East to West. As a result it does not slow us down; it only pushes us off our track line. This means that by steering a few degrees more to the East, we stay on our track and it does not affect our speed.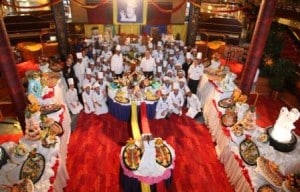 The Culinary Team with in the centre Ex. Chef Bitta Kuruvilla and Culinary Operations Manager Martin Groenendijk.
With nothing to see outside, we have not even seen any flying fish or birds; life rotates around on board happenings.  Today the major focus point was the Grand Show Buffet set up for lunch time in the dining room. We normally do a show buffet or a Chocolate Extravaganza during a cruise, but this was something different.
The hotel department pulled out all the stops to present something that you normally only see during a world cruise, when there are many sea days as well. As we had decided before we started this cruise to offer the guests a lot of extra things, which are normally not part of a normal cruise like this, the culinary department took up the challenge and went for it.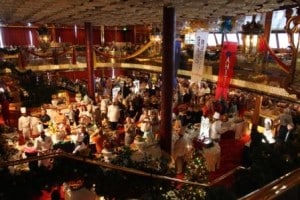 The centre of the lower diningroom with the various displays.
Executive chef Bitta Kuruvilla and his team labored many extra hours to come up with something extra ordinary, a display that took over half of the lower dining room.  I can only say, this was impressive, very impressive. Also the guests showed their appreciation by complimenting the assembled cooks who were all part of this tour de force in culinary display.  My compliments to all involved.
Tomorrow is another sea day and my focal point is on what will that wave field will do, that is coming down. Will it still be as concentrated as it looks now, or will it have lost a lot of its energy already and start dampening out. Still it looks that we can deal with it, without having it influence the ship very much and that is the most important thing. Apart from that we will notice that the temperatures will start to drop as the cold northerly air is coming towards us. I am not expecting that it will be very warm in San Diego on the 21st. but we will find out nearer to date.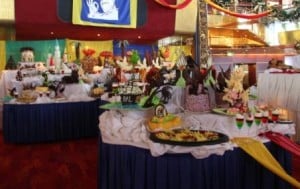 One small corner of the Extravaganza set-up. With even the Half Moon sailing ship (part of the HAL company logo) laid out in chocolate. (All photos courtesy of Henry Hidayat the HRM Clerk)