With glorious weather we ended our cruise today. Most guests were up and about early and could see a beautiful sailing in, into Boston Harbor. Those who did not were most likely fully focused on their last breakfast on board. This being up and about this early on the last day of the cruise is something we call "channel fever" inside Holland America. It goes back to the Trans-Atlantic days when the day before Rotterdam, while sailing into the English Channel, everybody was up and about early for last minute packing, making final arrangements or just being too nervous to sleep in. Whatever floats their boat, most of the guests were out and about very early.
We dock in Boston at the Cruise Port terminal. Renamed a few years ago as the original name was the Black Hawk terminal. Now its focus is on Cruise Ships with the occasional cargo ship being thrown in when there are no cruise ships. But as most of the cargo goes by container, there is a container terminal right opposite. A container terminal which they are expanding at the moment so it seems to those whose cruise it is sailing from building site to building site. Charlottetown, Sydney and now Boston. Only Montreal and Quebec are quiet but they had their refurbishment last year.  Halifax did their bollards as explained in the previous blog but at least they had the good grace of doing it during the winter when there were no cruise ships coming in.
When we sail into Boston we have lots of things to contend with. When approaching there can be whale waters, as the Right Whales sometime comes into the area; then there are the omni-present lobster pots; There are the Sunday sailors; there is dredging going on in the fairway so the navigation buoys are not in place and then to top it off, there is the airport. Logan airports arrival runway lays right over the turn into the cruise port terminal basin and the airplanes are not all coming in at the same angle of approach. So the ships pilot calls the Control Tower and advises that we will be coming around the corner with an air draft (height of the ship above water) of 166 feet. Then the Control tower advises the incoming airplanes (at 1700 hrs. there is one minute for a whole hour or so) to come in a little bit higher. I do not know much about planes but it seems that you do not have to come in at the same angle to land. Our problem is, and all captains had the scare once or twice, that then occasionally there is an airplane which still comes in very low. A number of years ago one of the incoming ships had a plane coming over at about 250 feet, that is only 90 feet above the ship. Never heard the rest of the story but there must have been some soul searching going on somewhere. But today all was well. While leaving we had 7 planes of United in a row, followed by Delta and then a few from Jet Blue. But they all were relatively high up above the ship.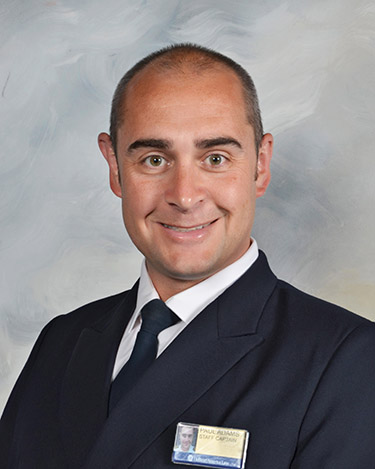 We had a Captains change today. Captain Ane Smit went on a well-deserved vacation and he was replaced by Captain Paul Adams. Captain Adams is one of our younger captains and he is doing a fill in until the other regular Zaandam captain comes back; Captain Chris Norman.  So he is doing one cruise up and down the coast and he had a week overlap with Captain Ane while the ship came down from Montreal. With the older captains retiring or stepping sideways in the tutoring or quality control functions, we have quite a few younger captains being appointed. Which is a good thing, as we always need replacements but also with the old ones stepping aside, the younger ones can reach the top faster than otherwise would be the case. There are quite a few staff captains who are very happy with the fact that I and others did not keep sitting on our chairs until we are 67. (Which is currently the official retirement age in the Netherlands)
Tomorrow we are back in Bar Harbor for what looks like a very nice day again. As a matter of fact the whole next week looks good but I do not put much value on forecasts beyond 3 days for the Canadian Maritimes. The weather is too unsettled here. But I have no problem with being proven wrong if it means that the weather is going to as nice as predicted for the next seven days.
While we are in Bar Harbor, there will be no CBP to contend with so the guests can start their invasion of the town without any formalities.  Weather: 68oF / 20oC sunny skies and hardly any wind.