One of the most enjoyable things of a westbound crossing is the time difference. It is the right way. Ever since we left Israel, we have been going back with the hours, which mean either a longer night in bed or more party time in the ship, whatever preference you have. Holland America has now settled into a routine of having the hours set forward on a crossing at noon time, and the hour's setback during the night. I remember that when I was captain in 2001 on the Noordam (3) that I was experimenting with the lunch time option and the results were quite favourable. A reluctant Hotelmanager was finally won over when he saw his bar revenue go up and after a number of years it suddenly returned as "a ruling" from the office. So I am more or less implementing my own policy. This is not an unusual system for HAL, new ideas are constantly forwarded to the office for review and follow up. If these are deemed suitable for fleet wide implementation then eventually they come back to us in a form of a ruling.
 In the old days, all time changes took place during the night and if we are sailing between two ports then we still have to do that. But for the crossing, the hour forward has now shifted to noon time. Between Israel and the USA we have in total 7 hours back, going from GMT + 3 hrs to GMT – 4 hours. Israel was a bit of an anomaly here, as their change to summer time did not take place at the same time as the rest of Europe. They were just going to their hour forward when we left Haifa. Which was good for us, otherwise we might have had an hour forward between Ashdod and Haifa and there the night was already so short. When the hours forward and back are given on the ship during a crossing is decided by the captain. In principle it does not matter that much, as long as you arrive at the next port on the same time. That leaves the option of scheduling these hours in the daily activities with the eye on the least or the best impact. Hours back are normally on the night of a formal night, such as last night. Here the hour back gave the option for all the guests going to the Black and Gold Ball at 10 pm and leaving at 11 pm while having spent 2 hours dancing and enjoying themselves. The only effect this sometimes has is that the sun rises the next morning at bit of a strange time.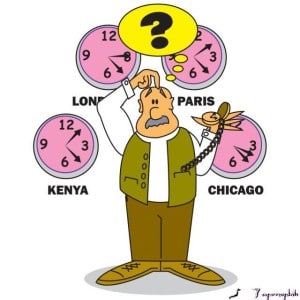 On shorter cruises, these time changes can be a real nuisance and some companies have done away with them completely. Carnival ships for instance stay on "Miami" time while making their Caribbean cruises. When going ashore, you ignore all local time signs and just keep an eye on your watch. Tour operators conduct their tours on "ships time" and ensure that you are coming back to the ship before it sails. In the Carib that is not much of an issue as the number of clock towers and other public clocks are nearly zero. The chance that you get confused is very small. Although looking at your watch is not fail safe either. I remember a gentleman missing the ship a number of years ago, because he kept his watch on "mountain time". He was rather confused about the fact that when he went on the cruise that the rest of the world was not necessarily on that same Mountain Time. When we picked him up in the next port, he had almost missed the plane as well, while catching up with the ship because of this "mountain time" and he was most indignant about the fact that "what was good enough for home, should be good enough for the bl…….. boat. This was definitely not a world traveler.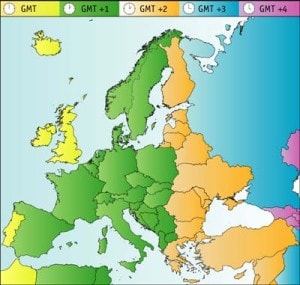 Portugal is the only country on the European Mainland who is on British Time.
I have some times stayed on ships time, between ports. When you cruise Europe it is possible that you go from Time zone GMT +1, for one day to Time zone GMT =0 and then back to GMT +1 again. For instance if you do a Spanish port then a Portuguese port and a Spanish port again. Then you go an hour back and the next night an hour forward again. If I then call at a small Portuguese port, I am tempted to stay on ships time, to avoid that hour forward to get back to Spanish time. I will never do it if we visit Lisbon as too many clock towers all around. Between Madeira and Fort Lauderdale we have 5 hours back. And last night we had the second one. Based on the above narration, you will understand that the final formal night on 12 May, will have an hour back and I am doing the last one on the night before arriving at Fort Lauderdale to give the guests an extra hour for packing. During that day, the panic will start about how to get the contents of five suitcases into three, due to too much shopping in the past 60 days. The company alleviates that problem a little bit by giving a trolley suitcase as one of the Grand Voyage amenities, more about that tomorrow.
(Diagrams googled from the internet with no direct source apparent.)