That the weather is forever changeable was proven overnight. After carefully scrutinizing the weather charts I had happily announced that it would be smooth seas and slight winds for the night and the morrow, but Mother Nature did not agree.  The weather did not turn bad, it was just more windy and wavy then forecast  and as a result the ship moved about a little bit.  A stormy weather system crossing over from Cape Hatteras towards the North of England had left its straight North Easterly course and had made a bit of bend to the south while still heading in a general North Easterly direction. As a result the tail end of the system came over Madeira and our course line during the night. Pushing a wave system to the south that made the ship move and rain clouds that made the ship wet.  Still it is moving away and I expect that by this evening the ship will be as steady as a rock again. The swell is ¾ on the starboard bow and thus the ship is subject to a pitching and rolling movement. The rolling is taken care of by the stabilizers but the light pitching is something we just have to live with. It is not bad, it is just "there" and you can feel that the ship is a real ship today. It does not detract anybody from doing what they want to do and today a lot of things were going on.  
The most important function of today was the first of the three Marnier luncheons that we are staging. We have to go for three of them as everybody onboard is a Mariner after such a long cruise. Also because a lot of the guests have a high number of days/medals, or are receiving a high day medal we had to add a medal party to it.  This is very typical of the Prinsendam and luckily we have sufficient sea days on this cruise to deal with it
For this morning the count was:  700 days:  8 awardees and 26 holders, 500 days:  25 awardees and 41 holders, 300 days:  36 awardees and 77 holders.  Those under 300 days will be recognized during two other lunches in the coming days.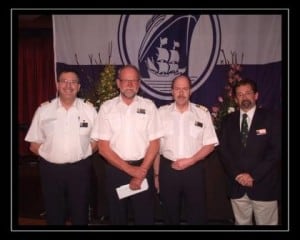 From left to right: HM Firmin van Walle, CE Jaap Wisse, Capt. Albert, CD Thom Faulkner. 
Apart from recognizing all these guests, I had also a very special person to honor, namely our Chief Engineer Mr. Jaap Wisse who was with the company for 40 years on May 3rd. That is an achievement that not many can attain to, as it means a lifetime dedication to one company. I do not like to deal with these sorts of things during a small gathering of peers with a drink and a handshake only, but feel that this should be done properly in front of the guests. All these veteran Prinsendam cruisers know him anyway, so what better place than among the Medals.  Tomorrow I am hosting an official cocktail party with the officers in my cabin for him and the day after the Hotelmanager has arranged for a dinner with the whole engine room team in the P.O Mess.  I have been at sea now for nearly 30 years of which 11 years as captain and during that period I have only recognized two crewmembers with 40 years of company service; a sign that it does not happen too often.   To give a few statistics of Jaap's time with the company: Sailed 7430 days at sea, travelled approx. 1,850.000 miles, visited 448 different ports in 159 countries. Sailed on 13 ships.
Congratulations Jaap and our deepest respect for your 40 years of faithful and outstanding service to the company. 
In the mean time the good ship Prinsendam, continued her voyage through the North Atlantic Ocean. We have now left the inhabited world completely behind us and are heading towards the centre of the North Atlantic.  On departure from Madeira I had hoped to sail the Great Circle route as it is about 40 miles shorter than the direct line of a Rhumb line route. Due to the curvature of the earth, a great circle, which follows the "shortest curve" of the world's surface  is a shorter track than a straight line over the globe. However it means that you start off with a different initial course and that heading brought the nose of the ship directly into the waves, causing considerable pitching and reduction of speed. So for the time being we went back to the Rhumb line course. Tomorrow when the wave patterns change, we might be able to try again and see if we can save some miles.
For tonight we all have to put our dancing shoes on, as the Cruise Director has organized the Black and Gold Officer Ball. The last great happening of our cruise. First a cocktail party in my cabin, then dinner at my table and then dancing. Who says life is boring…………..