Due to the distance from Puntarenas to Corinto, it is not possible to arrive any earlier than 0900 at the pilot station. And so it was done accordingly. The captain kept the pedal to the metal and we nicely arrived on time. From there it is about an hour to the dock as it involves swinging on arrival. Whether that happens depends a little bit on the current, which can really surge though the estuary and river, which together make up the harbor of Corinto. Today everything was according to plan and the Veendam docked sb. side alongside, nose out and ready for departure.
While this was happening we had a major activity going on down stairs. Today was card change day as we are moving to the three alarm system. Some crew will be keeping the same duties but some will be assigned to something else. But everybody had to report in with their lifejacket to get a new instruction card. To prevent any old cards from floating around, the best way to do this is, is old for new, and to check at the same time if there is not another, an even older card left in the lifejacket pouch.  When dealing with large numbers of people you have to devise procedures that are fool proof, or at least as much as possible. Mr. Murphy is always on board and enjoys anything out of the ordinary.
It must have looked a bit strange for the pilot when he stepped on board as he had to walk straight through the lines of crew – with lifejackets – while going to the bridge. But all crew showed up during their allotted time slots and by 11.30am all 600+ crew had received their new instructions. Now we will have three days of drills, to get everybody marching to the same tune.  Everybody knows what to do, but we want it to go like clockwork and that needs a few rehearsals.
When that was done, I had the chance to slip ashore to pay a quick visit to the school that I sponsored with the Crew of the Statendam in 2012 & 2013.  It is vacation time, as it is the warmest time of the year and thus the school is officially closed. With all the supplies that we landed a lot of work was done since autumn last year and what we landed in collected clothing etc. was sold to buy more teaching equipment. So reason to be very happy.  The wish list had not reduced of course; they still wanted small chairs, more school materials and cooling fans.
Now I am not on one ship anymore it is somewhat harder to organize things but I will see if I can arrange something for December if I make it to the Statendam on my rounds at that time. I will contact the Purser there as I believe there is still some money in the kitty.
Tonight the Veendam will sail from Nicaragua to Guatemala to visit Puerto Quetzal with a 0900 hrs. arrival. In the morning we will train the Crew in the new three alarm system and in the afternoon I will have my lifeboat class pottering around the harbor trying to steer a lifeboat.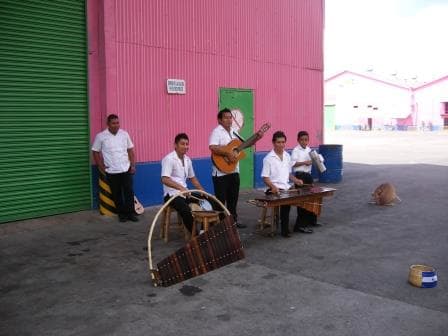 The local authorities provided entertainment on arrival and for the remainder of the day they had a marimba band on the dock. As they were happily sitting in the shadow all day, they probably had the best job in town. Reasonably cool and the dollars were flowing in.
Today it was dry, no wind and very warm. Tomorrow it is expected to be dry and very warm, but maybe we will find a shower to cool things down.