Once again the weather surprised us. In the planning were overcast skies with a little bit of rain but instead we had sunny skies and temperatures that reached the high sixties. Not that we were complaining, it ensured a perfect day during our first stop in Iceland. We had a whole parade of cruise ships or ships that could be construed as such coming in. There was us, followed by the Albatros, two small expedition ships the Akademik Shokalskiy and the Polar Stern and much later on the private yacht Octopus of Paul Allen, The latter being big enough to be a small cruise ship albeit catering for one person. By design or by good luck, I do not know but we had pride of place by docking in front of the visitors centre. We docked early, even earlier than anticipated, as the pilot boat came eagerly racing out to board us. So by 7 am we were docked for an official arrival of 0800 hrs. The first person ashore was the ships plumber as Iceland's water is one of the best quality natural water that there is, and the quicker the hose was attached, the more we would be able to load. In the end we loaded over 1100 tons, which could sustain us for 3 full days if needed. However we will also load in the coming ports, so that the ships evaporators will only be needed when we start to approach Spitsbergen.
In the meantime life rolled on onboard the ship. Something that makes a cruise ship stand out from a cargo ship is the amount of training that goes on. Friends that sail on the cargo ships are always amazed that anything we do involves so many more people than they could imagine. When they have somebody landing by helicopter, either a pilot or maybe a medivac, there are one or two persons present. (With 16 crew, they can hardly spare anybody else) When it happens on a cruise ship there are at least 80 people involved. To have those numbers work together means a lot of training for all involved. One of those trainings is to become a proficient lifeboat handler. Those who are or can be in command of a lifeboat. That is a six week course that is given onboard the ship. It takes a lot of studying for the crewmember outside his/her working hours and a lot of training and instruction time inside the working hours. The latter takes up a lot of hours from several deck officers as well.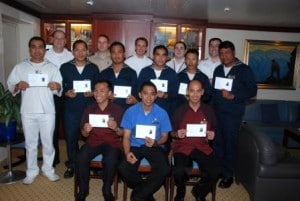 Lifeboat class certificate handout with the instructors and examinators in the background.
Photo courtesy, onboard photographers.
As the course is so intensive, the class is normally quite small. 10 to15 crew is the norm. Exams are done onboard as well, taken by the instructor, with the chief officer or another senior deck officer sitting in, to ensure the correct standard of questioning. For this deck officers follow a course ashore so that they know how to conduct an examination up to the standard required by the Dutch Shipping Inspection. When the exams are over, there is the handing out of the certificates and I try to make that a bit of an official happening. The participants had worked hard enough for it, to be formally recognized. Since I am blessed on this ship with the largest captain's cabin afloat on a cruise ship, I can invite them all to the cabin for the official presentation. After nibbles and drinks, each crewmember gets a photo with me handing out the certificate and also a group photo for memories sake. This time 9 passed the difficult exam and are now qualified to be a lifeboat commander.
We sailed from Reykjavik just after 5 pm. when all the tours were back. Here we have quite a few full day tours and they seldom come back on schedule. Either due to traffic or because there is so much to see, it is harder to have the guests stick to the schedule. However I was not in a really in a hurry, the run to Isafjordur is a 15 knot run, so we had heaps of time.
So under sunny skies and great scenery all around us we sailed out of the port, heading to the North West, in order to turn eventually to the East, once clear of the North West corner of Iceland. I disappeared into my bedroom quite quickly as I saw a big white wall of fog lingering near the horizon and that could mean a long night. Sun and wind still weather with cold water is not a good combination.
Tomorrow we are in Islafjodur, on the North West side of Iceland and the weather is supposed to be good as well. No wind and temperatures in the mid fifties. High summer for this area.