This country; which main island is Trinidad stands with one foot in the Caribbean and with one foot in South America. At the same time it is a real melting pot of different nationalities and races resulting in a country that is totally different than its neighbors. This call was also our most southern point of the cruise, after departure we are heading north again. Heading south would not be so easy anyway as Port of Spain is located on the west side of Trinidad facing the Gulf de Paria, which is large but shallow and its main entrance is located on the North West side of Trinidad. This is where we entered in the early morning and then turned east towards the pilot station. As the whole gulf is shallow, Port of Spain can only be reached through a dredged channel of about 4 miles long. For deep drafted ships it means following the whole channel but a ship as the Prinsendam with only 22 feet of draft can enter about halfway at buoy 11, before it becomes really shallow. We had a boarding time of 06.00 hrs. although we were not due in until 08.00 for our full day call. However the past has taught me that things never go completely normal here, so I like to be early.
There is only one pilot on duty and he does ship after ship, whenever one pops up and whenever a berth becomes available. He tries to plan it well but you can not always estimate the docking times exactly so we had to wait "a few minutes" before he could make it to the ship as he was still stuck on another one. A few minutes gives room to a lot of interpretation in the Caribbean Sea and in this case it was about 20 minutes. However then we sailed into the port unhindered. Even the rain shower fell when planned, starting while lined up in the channel and finished before I had to go outside on the wing to bring the ship alongside.
During the day, an occasional shower, strong but short (they call it a "sharp rain" in Port of Spain) fell and in between it was amazingly mild in temperature, mainly I think because it was overcast today. The guests went ashore and all was well in the world. The ship was busy with its usual drills, consisting of a fire drill followed by an abandon ship drill with lifeboats. During the fire drill, I played observer to see how the teams were performing and I normally throw something un-expected in, to avoid that complacency sets in. The drills are followed by an extensive debriefing during where we see if we can find anything that we can improve upon. All this experience results in FAP's. Fire Attack Plans. For each area, each space in the ship, we have such a plan. So we know beforehand which AC to switch off, which ventilation, how much hose we have to prepare from the hydrant towards the furthest point and the best way to approach etc etc. A cruise ship is a very complex floating building and you cannot know everything by heart and even if you could, in an emergency you would not remember it all. Thus we train, discuss, evaluate, update and refine.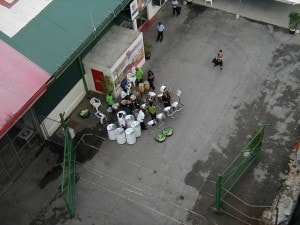 By 16.30 we were ready to sail and while we were getting ready we were entertained by a very good local steel band. Then finally, what I had been expecting, happened, Port of Spain lived up to its reputation. We had to wait as we were missing one guest. Thus I waited until 1700 hrs. and then said go as there was no sign or information. However when I was just coming off the dock, he came running out of a cab, so I went alongside again, to embark him. Saved him a lot of money as he did not have to catch up in another port.
Next thing was that I could hardly get the ship off the dock as it was so shallow. According to the pilot there was "plenty of water" but when digging a bit deeper, "plenty" translated into 4 feet. Then you do not have much flow under the keel and the water remains wrapped around the keel and cannot be pushed away. So it was a slow and hard slog to back up into the turning basin and then sail out of the port.
We went out, the same way we came in. Heading north into the Caribbean Sea again. Our next port of call is Port Elizabeth on Bequia; part of St. Vincent and the Grenadines. This is an anchor port, similar to Terre de Haut on Iles de Saintes. Only I cannot anchor that far in, due to the shallows in the bay. So I am at the mercy of the wind tomorrow and it is supposed to be breezy.