I had decided to go for a 0600 pilot to be ahead of the other cruise ships. It takes about 1 hour to get from the pilot station to the dock and that normally means that captains go for 1.5 hours before their official arrival time. One hour for the transit and 30 minutes up the sleeve. That would mean 06.30 for the pilot station in Rio and that would mean that three cruise ships (Prinsendam, MSC Poesia and the Grand Mistral) would all arrive there at the same time. Also they would all dock at the same time and be most likely in each others way while doing so. Not a real safe situation if you think about it. Thus I went for 0600 and indeed the Poesia and the Grand Mistral went for 06.30 and while I was happily sailing in the port they were bickering with the pilot station about who was going first. Sometimes a theory does work out in reality.
The closer we came to the entrance of Rio de Janeiro, the more pronounced the swell was, as it was pushed up by the shallow bottom. Ahead of us we saw a car carrier going in, which pitched considerably on the swell, just before reaching the pilot station. So I decided to keep the speed up for the proper functioning of the stabilizers and to sail past the pilot station into calmer waters before slowing down and letting the pilot onboard. However the pilot was not very enthused about sitting with his boat in the swell himself so he had moved further into the harbour as I had been planning to do.

The USS aircraft carrier the Carl Vinson in the distance. In the front the landing area, note the tents and the green port-a-loo's in the waiting area. Containers are used as a make shift screen barrier to comply with ISPS.
Sunrise was at 05.37 and as a result it was a perfect morning to see a nice arrival into Rio de Janeiro with the Sugar Loaf Mountain on the portside. The sun was not to seen as it was overcast but that made it even more pleasant to be out on the open deck. I had not expected to see that many people outside that early in the morning, but the outside decks were packed. Apart from the sky line of Rio there were some more unusual sights to behold. An oil rig was slowly maneuvered through the port by means of no less than 6 tugboats, A Dutch dredger came by (Geopotes XV) that keeps the fairway from silting up and an American aircraft carrier was in port. The Carl Vinson (nbr 70) had arrived the night before and was anchored in the middle of the Harbour. Today the crew were going to get some R & R and as that happens in two groups of 3000 or so, it was quite an organization that was being setup ashore. Lines of buses, a large sitting area and about 40 Port-A-loo's for emergencies while waiting in line to go back to the ship.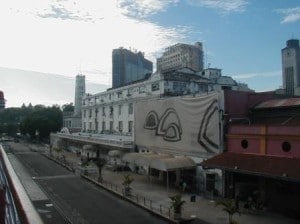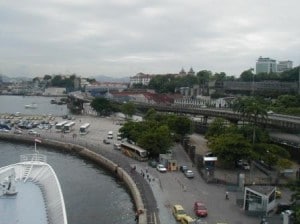 Where the Nieuw Amsterdam (II) once docked in green pastures, is now a concrete jungle with high rises and motorways. A few trees are still surviving.
The Prinsendam was nicely docked with the gangway out at 07.15 while the other two ships where just approaching the berth. They both had Rio as a change over port and by 8 am. the luggage was rolling over the pier into the terminal. With roughly 4000 people coming off those two ships it was rather chaotic in the customs hall. To optimize guest exposure to all the shops in the terminal, you are led from the ship on a sort of loop through the terminal to ensure that you do not miss any of them. Chaos and shops, Rio at it's best.
During the day reports came in that the west coast of Chile was hit by an Earthquake of 8.8. (That is very bad as the Richter scale only goes to 9) so we can count ourselves very lucky not to be in the area. As a result there was a tsunami warning issued, for Chile, West Antarctica and Hawaii. For a ship at sea a Tsunami is not dangerous as it is a pressure wave that travels through the water. Only when reaching the coast, and reaching shallow water, it cannot go forward anymore so it builds up into a wave. It does not have to be very high wave to create a lot of damage. Just imagine a ship sitting at the dock and a wave of only 2 feet comes in. The whole ship will be lifted those 2 feet up in the air and then slammed down again. Enough to do a lot of damage to the ship, not to mention the number of broken ribs or worse that will occur… When a tsuname alert is announced for an area or a port, then the prudent thing to do is to stay out in open and deep waters. As soon as the alert is called off, you can return or omit calling at a port altogether.
The NOAA gives out tsunami's warnings with the predicted height of the wave. I have included here the one for South America.
AT 1034 PM PACIFIC STANDARD TIME ON FEBRUARY 26 AN EARTHQUAKE WITH PRELIMINARY MAGNITUDE 8.8 OCCURRED NEAR THE COAST OF CENTRAL CHILE. THIS EARTHQUAKE HAS GENERATED A TSUNAMI WHICH COULD CAUSE DAMAGE TO REGIONS IN A WARNING OR ADVISORY.
A TSUNAMI HAS BEEN OBSERVED AT THE FOLLOWING SITES
LOCATION LAT LON TIME AMPL
———————— —– —— ——- ———–
74MIN TALCAHUANO C 36.7S 73.1W 0657UTC 1.84M/6.1FT
40MIN SAN FELIX CH 26.3S 80.1W 0832UTC 0.81M/2.7FT
57MIN CALDERA CHIL 27.1S 70.8W 0746UTC 0.52M/1.7FT
47MIN COQUIMBO CHI 29.9S 71.3W 0902UTC 1.27M/4.0FT
78MIN IQUIQUE CHIL 20.2S 70.2W 0851UTC 0.30M/1.0FT
57MIN ANTOFAGASTA 23.3S 70.4W 0956UTC 0.46M/1.5FT
84MIN ANCUD CHILE 41.9S 74.3W 0943UTC 0.34M/1.1FT
30MIN CORRAL CHILE 39.9S 73.4W 1012UTC 1.54M/5.1FT
56MIN CALLAO LA PUN 12.1S 77.2W 1029UTC 0.66M/2.2FT
TIME – TIME OF MEASUREMENT
AMPL – TSUNAMI AMPLITUDES ARE MEASURED RELATIVE TO NORMAL SEA LEVEL.
IT IS …NOT… CREST-TO-TROUGH WAVE HEIGHT.
VALUES ARE GIVEN IN BOTH METERS(M) AND FEET(FT).
We will stay in Rio de Janeiro overnight with about 50 guests leaving and coming tomorrow. Tonight there will be a lot of tours going to Samba shows for which Rio is of course very famous.