With a following swell we spent the day sailing southwards along the Mexican coast. Our average speed to maintain for a 0700 arrival at Puerto Vallarta is 17.5 knots and is just too slow to completely surf away from the influence of the swell. So on occasion the ship made this heaving movement that we call the corkscrew motion. Not rolling, not pitching but this swaying motion. Not very bothersome but just enough to remind you that you are on a ship and not in a land based hotel. Our speed was just enough to create a very pleasant weather condition on the deck. We had a following wind of 21 to 26 knots and with a ships speed of 18, it created a gentle breeze of about 6 knots. With sailing in the cold California current and the cooler northerly air flowing through the outside temperatures just touched the mid 60's so it was a pleasant day, before we have to brace the warm weather of the tropics again. The weather forecast for the coming days looks good as well, until we come to Tehuantepec. In the Gulf of Mexico the weather is horrible at the moment and that wind funnels through the gap in the mountain range near Salina Cruz. Thus it is not very pleasant there and that will have my undivided attention for the coming days. 
This morning it was the crew that had my undivided attention. When new crew are boarding the ship, they have to go through a safety indoctrination program before they can start working. Part 1 is on embarkation day where they get shown a safety video about the ship and where their certificates are being checked. If crew comes on board with expired certificates, they are re-trained before they can go to work. Then the next morning they attend part 2 of this indoctrination program and that is learning about HESS and getting a lot of information about how they can make their stay as pleasant as possible while on board. It is standard that the ships staff then joins in, to introduce themselves and impart a few words of wisdom related to their area of responsibility. Apart from it being the decent thing to do, it is not without necessity. With the large crew turnover and the constant influx of new people, you cannot rely anymore on the fact that fellow crew will teach a new crewmember the ropes. Especially in entertainment and concessions (shops etc.) the managers might have only be sailing for two or three contracts and each time for a different company. The days that shop managers, casino managers and others choose a sailing career for life are long gone and two years in the job is considered very experienced. With the regular crew long years of sailing still occur but with the fleet expanding, they are spread out over the ships, so again a larger number is fairly new.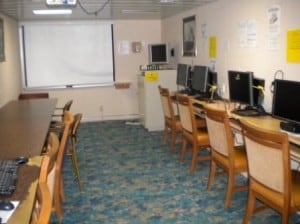 The ships training room, with computer terminals for self study and for training lessons by various officers.
To get all these people up to speed and molded into the shipboard operation means that we have to do a lot of training and teaching in the begining period. And so we do. That is all in the hands of the HRM (Human Resources Manager) a function that was created a few years ago, with the idea of having an officer whose sole function it is to focus on the crew and their needs. The 2nd person deeply involved with this is S.E.H Officer, Safety Environmental and Health, or better said our compliance officer, who has to ensure that everybody is up-to-date with their training and certification. For a new crewmember that training will keep him or her busy for the first 14 days, as the company has a myriad of computer based training courses to complete. Varying from a Carnival Ethics course, to Noro-virus, to sanitation, to Harassment and then job specific trainings as well.
For a brand new crewmember that can be quite surprising. Especially in the entertainment department we can really have some startled crewmembers. Coming on board and expecting that life will be one big party, they find out that they spend their first 14 days studying the ways of the company and life on board in general.
Tomorrow will be our 2nd sea day and we will do a sail by at Cabo San Lucas again. Last cruise northbound we saw that the first humpback whales were arriving from their summer period up in Alaska, so maybe we will have some sightings. We should also lose the swell by that time and the ship should be back to being its normal steady self.