Thus with all the brands under the Carnival Umbrella doing their own thing in developing checklists, somewhere along the line the enlightenment came that Emergency's are not exactly Brand specific and thus checklists do not need to be Brand specific. That insight came from an un-expected angle; a training centre in the Netherlands.
A number of years ago, Princess Cruises spearheaded a project for building a nautical simulator for its officers, to train in team work, bridge routines and emergencies. Although Princess is more British/American than Dutch this new training centre was built in Almere in the Netherlands.  In this training centre called C-Smart- two navigational simulator bridges were built and around it class rooms for theory. All the Carnival Brands booked space and step by step all the officers went for training there. It is now so successful that it also has an Engine room simulator and has permission from Carnival for a new building that will more than double its capacity.
A simulator has the advantage that you can test things that you would be very weary of to try in real life. But as the software is nowadays so good that the simulation is – as good as- real life, you can try things and experiment. The use of checklists became quickly a standard part of the bridge operation. If an Officer came on the bridge, he/she would first use a checklist to familiarize themselves with the current situation, before the real watch changeover would take place.  When at the training centre the officers from all the Brands are using the same checklists, the ones developed at C- Smart. Then they go back to their own company and have to use other – the company own developed- checklists again. To a certain extent that does not make sense and thus Carnival Corporation has stepped in to bring some standardization in this area.   That process is still going on and can only move slowly as we have to make sure that the details in the checklists work for all the Brands and all the ships. Where needed the corporate checklist has to be adapted, or a Brand has to adapt it procedures first so the system becomes workable.
 Now we are going back to where I started my blog with, 2 days ago. There is a shift from paperwork to Electronics. The paper safety plans are disappearing and are being replaced by digital read outs. The checklists, also printed on paper, are going to be incorporated in these digital read outs. So there is an enormous challenge going on with standardization of the checklists and then digitizing them into an interactive system with the officer standing in front of a vertical screen.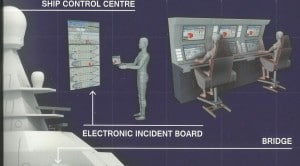 Illustration, courtesy of Martec Italy.
Flat panels take up less space than flat tables with on it a rolled out safety plan. Also the digital display gives the option to project it on a wall size screen, or on a screen as small as an I-Pad. Coming out of the space-saving thinking world it is not strange that these ideas are coming from the Navy. Navy ships never have enough room to store all the gadgets high command wants, so a lot of thinking goes into optimizing each piece of equipment that is being put on board.  Holland America works with an Italian Company called Martec for the development of this new digital system. This company has done extensive work for the Italian Navy, so we now see that the philosophy behind the system is sound. It is officially called a Command Decision Support system, as it supplies the Master with the information and overview needed to make decisions in an emergency situation.
The biggest challenge for making this digitally functional is to lay it out in such a way that it becomes logical and intuitive. And that is not so simple. We have all struggled in the past trying to understand drawings and manuals of how to put furniture together, how to program a DVD recorder or to try to find why in the car something goes suddenly beep and you know there is nothing wrong.  
Thus I am now involved in trying to get the digital checklist flow going in such a way, that there is a logical progression from each step to be checked off, to the next step. It will take a long time before it will be completely right and it will be imperative that there is feedback from the fleet, as they are the ones using it.  Luckily the Officers on the ships are normally quite vocal when something does not work, thus the feedback will come. I will be in an ideal position, when hopping from ship to ship, to listen to this feedback, collate it and then use all that information to improve the system.
Blog note: there have been comments coming in, that the readers do not get a email notification anymore, when my blog goes on line. The Blog Moderators are aware and are working with the IT guru's to get it sorted. My apologies for the inconvenience caused and hopefully the glitch can be corrected ASAP.