Whether is was by coincidence or by farsighted City elders, Tallinn is a really un-spoilt city that kept its original charm, old fashioned housing and lay out inside the city walls. New Tallinn, everything that was built after the 2nd world war, was built outside the gates and more to the East. Thus you can see high rises towering over the old city but not in it. Also the traffic to and from the harbor, which is located right in front of the old city, is nicely diverted around the city walls.
Estonia is closely related to Finland. There are certain similarities in the language and by means of the multiple, daily, ferry departures there is a lot of interaction between the two countries. Estonia was once part of the USSR by default, never by choice, so when the Iron curtain came down it at once looked to the outside and established close links to Finland. Counting the number of ferries coming and going I believe that it must be possible to depart from Tallinn for Finland about once in the hour. They used to work a lot with fast hydrofoils or similar craft but now more and more regular ferries are coming in that combine freight and passengers and they are getting bigger and bigger. Following a trend in the Mediterranean they are also sporting more and more unusual colors. Colors that are certainly attracting attention but that are somehow not my taste.
It is green and it moves through the Baltic.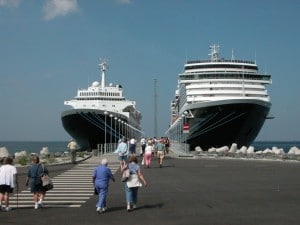 The pier when new. Noordam and Westerdam docked in Tallin.
The new dock was built in 2001, to relieve the cruise ship pressure from the cargo harbour just in front of it. It can take two mega liners and is a delight to dock at as far as bollards and fenders are concerned. The walk to town is about the same but it has the advantage that the local sightseeing buses can pull up near the pier, something they could not do in the cargo terminal.
When we docked I could not believe my eyes as I saw rows and rows of British Beach Huts on the dock. Totally out of place as you see that shape normally only in England. There they are very popular and, even in the small resort where I live; they sell for 10 to 20.000 pounds. One in the south of England was even sold for over 100.000 pounds. A beach hut is only about 9 square feet at the most and mainly used for storing beach equipment and making a cup of tea. The latter a British necessity; 24 hours day.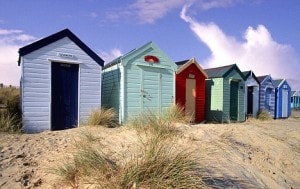 Later on in the morning it became clear that these were not beach huts but little shops with trinkets for the guests to buy. Not unusual for any port, it was just peculiar to see that the design for these souvenir stalls resembled English beach huts.
We had during the day the umpteenth Port State Control Inspection. This is something similar to the USCG inspections we have in the USA. Only in Europe it is governed under the "Paris MOU" and done by each individual country connected to the system. There is a big inspection every six months and a few "boarding's" in between. These boarding's can take place at any time, and of course a cruise ship is a prime contender for an inspection as it is a lot more interesting than a tanker or a box boat. This inspection was successfully completed with yet another report to add to the collection. These Port State Inspections in all these European ports do eventually result in the fact that ships that are rust buckets and a danger to the environment are disappearing from the high seas.
We sailed as soon as the last tour had returned from the shore with a near gale blowing. Only a problem for me as it kept the ship glued against the dock. For the guests it was just breezy and very sunny, so a beautiful day. Thus I had a tug boat hooked up to the stern to pull us off the dock. After a quick swing around we headed out to open sea in the direction of Stockholm.
Stockholm is a four hour sail in and as we have to arrive after the Aida Luna for docking purposes, the pilots have put my ETA back 30 minutes, so it is going to be tight to dock on time. However it should be another glorious day and morning. I have to be at the pilot station at 4 am, so I will be in bed early again tonight and not hosting a captains table. We are going through a very tight hole tomorrow morning so I need to be very alert.