So Today I rejoined the Statendam for a contract that will last until May 17. Shorter than normal but that has to do with the Senior Management Conference that will take place in May of this year. I will explain that in one of my coming blogs. Getting to the ship was an interesting exercise as the Customs and Border Protection in New York threw a not so nice spanner in the wheel. There were long lines at the Immigration booths and it took me 2.5 hours even to make it to the cubicle where your passport is inspected and then stamped. What I had not expected was that they had re-instigated "2nd processing". If you go to the States on a waiver program or with a regular visa, you get stamped at the cubicle and you are sent on your merry way. So when I go to the states for a vacation that is what I get. When I come to the States as a sailor it is different. You are pulled out of the entry process, marched to a separate office, where another CBP Officer does something top secret with your passport and then you get your stamp. By the time that it had been ascertained that I did not pose a danger to the country, it had been more than 3 hours and my flight to Fort Lauderdale was departing. Thus I spent the night in New York and flew this morning. Arriving at the ship at noon time, eagerly awaited by my colleague who this time did not go on leave but was going to retire. Luckily he was flying the next day and thus he was not inconvenienced by my late arrival, courtesy of the CBP.
 Captain Frans Consen joined Holland America just before I did back in 1981 and we sailed together on various ships while going through the ranks. We know each other very well. I was his chief officer when he was promoted to Captain back in 1991 and that made him the most senior captain in the company by the time he retired. Which was today. Retiring is always a peculiar situation as there is a "last of everything". Some people cannot wait to get out of it and some people will cling on until the bitter end and way past their sell by date. But for those who leave on time, it is a bitter sweet moment. Captain Frans decided upon his retirement date himself and choose the right moment; the moment he still loved the job but knew that other days would be coming. The right time to leave it all behind. Then it is not easy to say goodbye and indeed leave it all behind. Thus the handover was quite emotional.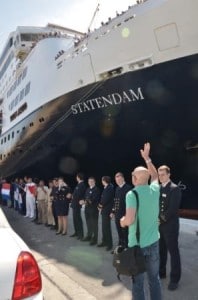 Saying Goodbye to his ship for the very last time. All photos by ships photographer Lucille Boudoux
 The crew had been saying goodbye in various stages during the last cruises; with a big happening during the Mariners Party on the 28 day South Pacific Cruise. See the Hal Blog site for details. For today we had one more item planned, for the final time he was walking down the gangway. By 3 pm. all the crew that could be spared (never easy during changeover day) was either on the dock side or hanging over the railing to say good bye. We had Andrea Bocelli, singing over the P.A system, "time to say goodbye" (he was flown in especially for this occasion) and I did what I do best, honking the horn at the appropriate moments.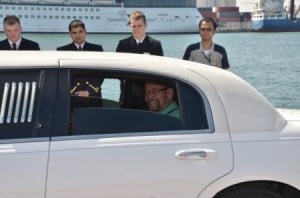 The longest limousine available in Fort Lauderdale had been hired to transport Captain Frans to his Hotel and the ships staff was at hand with champagne to toast a final farewell….. and a smooth sailing into a happy retirement.
Still life goes on, the new guests were coming on board and we pulled out as planned directly after the Guest Boat drill. We followed the Celebrity Equinox out, as she was scheduled ahead of us and started our next Panama Canal Cruise.
Our first port of call will be Oranjestad Aruba, and hopefully we will have some good weather. The Carib is very windy at the moment due to a cold front laying over the Bahamas, but it is supposed to dissipate. Tomorrow we are sailing north of Cuba and then the 2nd seaday will be spent crossing the Caribbean Sea.
Captain Frans Consen.
Master of Holland America Line ships from December 1991 (Nieuw Amsterdam III) until March 2013 (Statendam V)
On behalf of the whole Team of the ms Statendam we wish you a happy, long and healhty retirement. May you have smooth seas and following winds, wherever your travels may take you.