When you come back on board a ship after a vacation, it is as if you are gathering thread to continue knitting a jumper. Although your predecessor has left hand over notes, they can never cover everything and thus you have to start tying all the loose strands together again. Eventually you are then sitting as a spider in the centre of the web, from where you can over see everything. As every captain is different, you have your own focus points and one of the first things that you do is make a round in the ship and see if everything is still up to your personal expectations. Thus the one thing you want to do when coming on board is to run around ASAP and see the "lay of the land".
 But it does not always work out like that, often managerial  work overtakes the hands on. All the crew has to go through an indoctrination period when they join the ship. If they are brand new or have never sailed on this particular class of ship before, then that is a lot of work with training courses, walkabouts, lessons etc. etc. If they are coming back to the same ship, it is reduced to two sessions. One upon boarding and one the next morning at 0900. At the second session the Captain and ships staff introduces themselves and everybody is taken through a Safety, Health, Environmental and Security session to be aware of the latest changes. That is a big change from the past. When I joined Holland America in 1981 on the Statendam IV, the captain did not even talk to me, me being only a 4th. Officer. He would communicate via the 2nd officer if he wanted me to do something. Expecting the captain to address the crew and welcome them on board was not even heard of. If you came to the attention of the Master of the Vessel, then you could start to fear for your job. Things have changed for the better since then and now everybody has to be part of the team to get the job done.
Thus we introduce ourselves, say a few wise words about what you particularly find very important and then the Environmental Officer, the Safety Officer, the Security Officer and Human Resources Officer take over. Next step is to have a new I.D card issued and to get your master keys. The captain of course holds a general master key that opens up everything and the Security Officer is very hot on it, to make sure that those are properly signed for. By the time that is done, it is time for the Staff meeting. In the 10 weeks that I was gone, most of the ships staff changed as we are going through a "musical chair period" with a lot of people switching ships. Thus there was a new S.E.H officer, a new Hotel director and a new Chief Engineer, although I had sailed with all of them before sometime in the past. Still it means rebuilding the team as we all have different characters and different priorities. Soon it was noon time and the need to spend some time on the bridge. Also there the Officers have changed and some of the seniors have moved on to the other ships. Now we have a new group of which about half have never sailed with me before and thus they have to get used to my way of doing things and I have to find out what their strengths and weaknesses are so that the Staff Captain and I can mold them into a fine tuned team again. So even with a routine run, there will be plenty of work in the coming period to keep me gainfully occupied.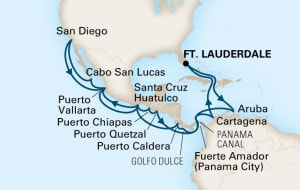 The west and Eastbound cruise combined. an option that many guests take and so avoid having to fly.  
The routine run means that the ship will calling at the same ports as before Christmas. That will continue with one more Eastbound and one more Westbound cruise and then we will move up to Alaska. The interior up in Seward will not be open yet and to fill the time we will make two 7 day roundtrips from Vancouver before we call at Seward again. By the time we still start the Alaska season, it will still be very cold but I am looking forward to seeing Glacier Bay as it will still be a winter wonderland with the snow still reaching the water's edge.
 Tomorrow we will enter the Caribbean Sea as we sailed above Cuba today. The weather forecast it promising very windy weather and that might makes things a bit lively when we get there.