The Scottish ports are known to be very hospitable and Invergordon was no exception. I knew that everything would be arranged properly, even on this short notice and it was. The pilot hopped onboard at the scheduled time of 06.00 hrs. and we sailed into the fjord or estuary that gives access to the port of Invergordon. The port is quite often used as a shelter for bad weather and at one time it was the Royal British Navy favourite hi-da-way to do so when things were getting a bit too wild in Northern part of the North Sea. Now the same is done by cruise ships that are blown out of other ports. The town is also frequented by ships on normal cruise calls. Thus yesterday, the Ocean Countess was in port. When she left, she needed two heavy tugboats just to get off the dock and she is only a small ship. According to the pilot, "the wee………… bit of wind had breezed up to quite a bit of wind" and Invergordon had thus not been exempt from the strong winds completely. They had had 40 knots blowing at the pilot station for a considerable time yesterday. By the time we got to the dock, things were a lot better, but the nearly wind still weather of 8 knots that had been forecast was not in residence yet. It still blew about 20 knots from the South East. That SE wind that had been my enemy for the last few days, was now my friend as it blew the ship into the direction of the dock. By using bow and stern thruster I could easily regulate that drift and by 0800 we were safely docked. Five minutes later the gangway was out and the guests started to stream ashore.
Invergordon is quite small but very picturesque and as my plan B had been sometime in the making, the onboard Shore Excursions office was well prepared and nearly half the ship went on tour. Main attraction being Loch Ness, which is not that far away from the port. Old Nessie did not show herself but the Loch is enchanting enough without it. The weather itself did improve during the day and we had a very sunny afternoon, although the nearly wind still weather never materialized and it remained very windy. Still we were safely docked alongside and that gave me time to finally catch up with all the paperwork and my hand over reports, as I will be leaving on the 11th. in Tilbury. Plus I caught a bit of sleep in the afternoon as well.
Something that is one of the challenges of a life at sea is getting supplies and other items needed as we cannot simply go shopping all the time. So things have to be ordered through the office, or via ship chandlers. Unusual items that you really have to see, to know if they are right, are nearly impossible. So I had tasked my wife with one of those challenges. As part of our ever continuing drive to improve safety an auditor had found out that the "high back grand father chairs", used by the Cruise Director during coffee chats and interviews, were not fire retardant enough. Try to find chairs like this, without 6 six-week delivery times, while sailing on a cruise ship that only calls at each port once………….that is not easy at all. Still there are websites and if you have a wife with a well developed shopping sense and a nose for bargains, there is just the possibility. Two chairs were found (on discount as well) in Glasgow (while we were in Peel) but how to get them onboard? Here the agent in Rosyth could help and they organised a courier service that went to the shop in Glasgow, picked them up and brought them to the ship. The total price was low enough that the Hotel manager's budget did not take much of a dent and the Cruise Director was a very happy camper. To source, pay and organise everything took my wife about 5 days, by telephone email and only by being British and understanding the British shop system, was it possible to do this. My wife calls herself "The Captain's secretary" and in cases like this she really lives up to that qualification.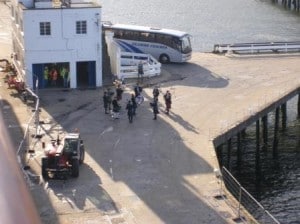 A standard happening for ships departing Invergordon a Pipe band on the dock to say farewell. Photo by roving reporter Lesley Schoonderbeek.
We left Invergordon at 1800 hrs. with a band of Pipers and Drummers on the dockside providing a real Scottish farewell. Tomorrow we are in Rosyth and maybe the wind still weather will have arrived then. At least it will be warm. 19oC or 68oF. Absolutely balmy for Scottish standards.