Today we spend the day at sea as it is a long distance from Huatalco to Puerto Vallarta. Although it looks dwarfed by the USA when seeing it on the map, Mexico is a large country which stretches several hundred miles from South to North and as Huatalco is near the south border and Puerto Vallarta about 2/3 up the coast we have to spend a day at sea to get there.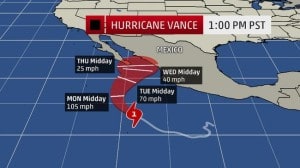 The most important question of the day was: What was Vance doing or what was he going to do. (I suppose that a hurricane is a he, if it has a male name and a she if it has a female name) Well Vance had finally made up his mind and was slowly moving towards the coast of Mexico. The most likely trajectory is now that he will make land fall somewhere north of the Bahia de Banderas in which Puerto Vallarta is located.  That would be bad news, if it was not for the fact that Vance is weakening and is expected to come down to a tropical storm or less.  On our way to Puerto Vallarta we will remain at least a 150 miles away from the stormy area and by the time we leave P.V again, the winds should be down to about 20 knots in the area of Cabo San Lucas, where we will then finally pass its path. We will notice the swell though as that always coves a larger area than the wind.
If Vance would have maintained his strength and then would have started to move; then the situation would have been different. With a full blown hurricane in the vicinity you do not go into a bay with the chance that the hurricane might block the entrance, or worse, follow you inside. If Vance would have moved as predicted, North East, then the Veendam would have moved North West and sailed around it at a safe distance. That would have cost us the Port Call of Puerto Vallarta but you do not take chances with a hurricane. But Vance is a good boy and is giving up the fight so we can continue our cruise as planned. We might get a bit more rain fall that we would have expected for this time of the year but the people in the Bahia de California won't mind that I think.
I spent my day on teaching Crowd Control again. We have a lot of special teams on board who all have a special task to fulfill during an emergency and most of them have to deal with people while executing those tasks. One of those teams is the Evacuation Team under the leadership of the Security Officer. During an emergency they are responsible for evacuating cabins near the Restricted Zone (where the emergency is) and then act as Guardians to keep everybody out of the area. (As everybody now walks around with a Smart Phone, that has become a very busy job, as everybody wants to take a photo of the emergency)
This team is made up from Housekeeping crew, those who you see vacuuming the staircases, carrying tables etc. General Purpose Attendant, Housekeeping. It is the first step on the ladder of a career in the housekeeping department. The biggest challenge is to instill in them enough confidence to be forceful against other crew members and or guests. Partly as it is all new to them and partly as we are a service orientated business, where you are friendly and not brusque. Still in an emergency only the results count and that means sending people away from the danger zone and also stopping crew, even if in higher rank.
It gives a lot of satisfaction to see after an hour that a timid and friendly Indonesian is turning into a roaring lion of a guardian as soon as he or she realizes what you can do with just a few small tools and attitude, and they love it. Finally the chance to throw one's weight around, while serving a good cause.
During the next fire drill, I will play – a difficult passenger – and then they can yell at me and order me away. And I think they will do it as well.
So the good ship Veendam will arrive in Puerto Vallarta at 0800 tomorrow morning, without having being bothered by Vance the dissipating hurricane. (Unless he changes his mind again during the coming night) I expect an overcast day and if Vance keeps moving as he currently does then he will be pushing a lot of rain showers ahead of him and over Puerto Vallarta. That will keep the temperature down and will make our Bo 'sun happy as he has been complaining about all the salt on the ship. To make a ships Bo 'sun happy, you have to give him a good downpour on the ship every morning at 0500 hrs. He might get it this time.