Just before I turned in for the night, the agent in Cabo San Lucas provided a bombshell piece of information. During our call, there would be a sport fishing contest going on, with about 200 boats participating. Can you imagine, 200 Sunday sailors coming out of the bay at the same time? It is called the Bisbees Black and Blue and it is the largest fishing tournament in whole California. (American California included according to the locals). The contest was to start at 0700, just as we were supposed to arrive at the anchorage. So I brought my ETA forward by 30 minutes to make sure that we would be in position before the exodus was going to start. On arrival we were informed by Port Control that the first 50 were already coming out and they all streamed past by going under the ship's bow. Normally there is one leader and the rest follows; and that was also the case here. Luckily there was a Port Security boat in attendance to ensure that no collision situation was created because some boats will blindly follow the leader, regardless of having a big blue steel wall in the way.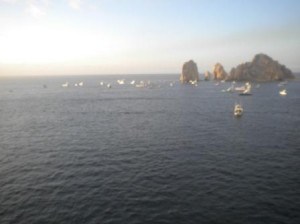 A large fleet of eager fishermen gathering for the biggest catch of their life.
The next wave of boats went to the west, curving around Cabo – Cape itself and we could start our tender service without too much of a problem. It was just a bit wobbly at the tender platforms caused by the wake of all these boats. Then we saw another 100 boats gathering in the bay, all waiting for the 8 am flare to start the competition for fishing while moving, instead of being stationary. So we had three groups out there today; two stationary and one moving. And they were all scheduled to come back between 2 and 4 pm today. Just when we were going to leave they would start to come back.
The 8 am flare indicating that everybody could take off for their best fishing spot.
In the end we had more issues with the jet scooters rented by Carnival guests than with the fishing boats. Although there is a supervisor out there, also on a scooter, he does not have much control over them and sometimes it goes wrong. They race around the two ships at anchor, come dangerously close to our propellers and thrusters and are playing around right in the route that the tenders take to shore. We anticipate that by having a sailor on each tender who keeps a sharp lookout for these sorts of things and this morning it was necessary as one of the jet scooters took to sharp turn and flipped over right in front of an approaching tender. The tender stopped and then slowly moved around them while they scrambled back onto the scooter. You could see from their laughing faces that they did not have the faintest idea of what danger they were in.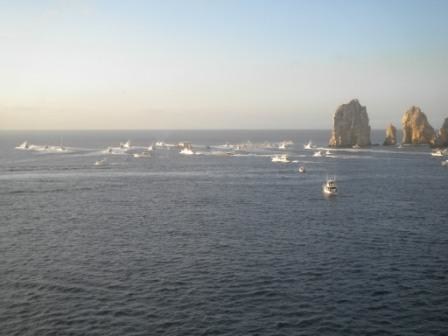 Take off. This was the moment I had been dreading for if they had done this while they were coming in. Luckily we were already at the anchorage.
On departure we had our own issue with a parasail boat. While we were slowly gliding out of the bay, a parasail boat was planning to cross our bow from port to starboard. The boat would have made it, his Para sail with 2 people hanging under it, would not. So I sounded the danger signal (5 shorts = officially it means: I am unclear of your intentions) and the boat operator made a sharp turn away from the Statendam. No doubt to great relief of those hanging up there in the air. One of my colleague captains has a nice saying for this: "How can I soar like an eagle when I am surrounded by turkeys".
When we came out of the bay, we were amazed; not a single fishing boat to be seen around the Cape. So the 3 pm return was obviously not correct. We saw some boats in the far distance but they were at least 30 minutes away from port, if coming back on full speed. I hope that the Carnival Splendor made it out in time, as she was scheduled to leave at 1700 hrs.
Tonight we will sail along the coast of the Baja California and then tomorrow we will have our last day at sea. The wind looks reasonably well but there is a wave field coming down the coast which we will meet around lunch time. The predictions do not look to bad though, so we should not move around too much.