As usual all the Holland America Ships will be celebrating Christmas guests and crew alike. Where ever they are in the world, all of them at their local time. So the Noordam will be well ahead of the Caribbean ships.
In this case I would to share with you a bit of nostalgia from the good old days.  The old ss Rotterdam, Grand Dame of the Seas, is now a Hotel ship in Rotterdam. And for the first time she has been decked out (and even better) in the way we would have painted best wishes on her decks and raised the Christmas star.  The hotel company which now owns her, has a keen understanding of the importance of maintaining maritime tradition and has now agreed to resurrect the routines we as crew on board followed in the days before 1997.  Ex crew of the ship now, volunteering as hosts on board, showed the old photos and it worked
Happy holidays and a prosperous and blessed 2018, from me and Lesley.
I hope you will enjoy the photos.
The colored flood lights are an addition by the volunteers as the ship would be in the dark when sailing, so the navigators could keep a good look out.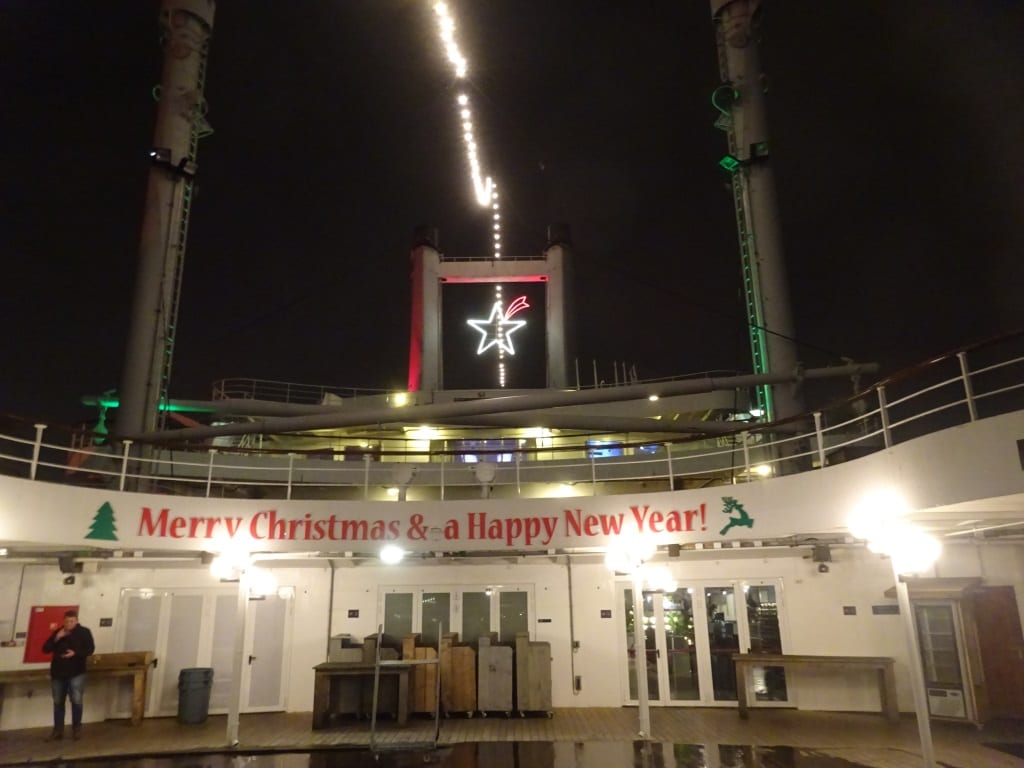 The Christstar has now returned. This frame would each year be repaired by the engineers and the electricians and then hoisted on the day the Christmas cruise started. (And checked every morning to see if it was still there and not blown away during the night.