When dawn came, it became clear that it was going to be a glorious day in Juneau. We were scheduled for a 10 am arrival in Juneau and that meant that the guests could see the approach through Stephens Passage and Gastineau Channel in bright and sunny daylight. As explained yesterday, our approaches and departures are regulated by the Voluntary Waterway Guide. So it also dictates our arrival speed going into Juneau. Hence the approach starts around 08.30 when entering Gastineau channel. That brings us by 0930 at the dock and then it takes about 15 to 20 minutes to get the lines ashore and the gangway out.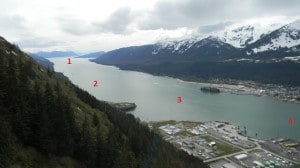 Photo of Gastineau Channel from the internet.Until the entrance of Gastineau channel the speed is unregulated but has to be down to 16 knots when entering the channel. Then it goes down to 14 knots once inside (1). This with the eye on reducing the wake of the ship. At the beginning of the channel there are quite often fish packers at anchor, transferring freshly caught fish. By the time we come to a location called Ship-Creek; we have to be down to 10 knots (2). 7 knots once we are at Juneau Isle (3) and down to 5 knots when entering the Basin (5). From there it is up to the captain to slow down in whatever way he wants to make a safe docking.
The only complication we had today was the fact that the Oosterdam was already in location and that meant we had to squeeze in behind her. The Statendam has the best dock of all ships in Juneau, with the nose right into down town but when the other ships are scheduled to be earlier, we have to work around them. Today there was a full house, with the Island Princess, Golden Princess, Oosterdam and Statendam. All the docks were full, only the anchorage was not in use.
If that had been occupied as well, then getting into our corner of the harbor would have been an even tighter squeeze. But it is the best spot for our guests and that is the only thing that really counts. Northbound we have an evening stay here, courtesy of the fact that Skagway is just around the corner. Southbound we leave at 1800 hrs. otherwise it is a bit too tight to get to Ketchikan on time.
For Skagway we will have a whole parade tonight, with the Island Princess leading the way, followed by the Golden Princess, followed by us. Half way up the Lynn Canal we will overtake the Disney Wonder who has to come into Skagway last due to the assigned docking sequence. Also here it is all regulated by the Voluntary Waterway Guide.
We will be there by 0600 hrs. and the weather forecast indicates that it will be a dry day, with some wind in the afternoon………….and that is not unusual for Skagway.