The weather remained glorious for the day and night and this is going to be a great call. We are here for the weekend and that helps for getting the tours going around Lisbon. Work traffic on the roads is a lot less than on a week day. Especially in the port areas there can be a nice traffic jam created when all the container traffic tries to get in and a 100 tour busses (from three ships) try to get out. On a Sunday at least the container traffic is not there. As Lisbon never sleeps it does not make much difference to the atmosphere. When we arrived yesterday near the dock at 7 Am there were still two big parties going on at restaurants overlooking the river. The pilot thought that they would stop at the "normal" time of around 9 am. They had also started at the "normal" Lisbon time of about 11 pm in the evening with a dinner and progressed from there.
My colleague arrived onboard last night and so we had the whole morning for a hand over and to get the paper work squared away. By noon time we both put our signatures in the logbook, I handed over the beeper and the ship was his. My vacation had officially started.
As this was a contract of nearly five months I will now have four months off and will return to the Prinsendam on 6 January 2010, the moment she has arrived in dry dock.
To all my readers, I would like to say thank you for reading about my daily trials and tribulations while going around the world with the "The Elegant Explorer". In July we went all the way to the North Pole ice and by the end of January next year we will be near the South Pole. By the middle of next year, we will be sailing around Europe again and we might even make it to Scrabster……………….
Although the Prinsendam is an older ship and does not have ice skating rink, nor a rock climbing wall or a Wii lounge it still offers something that appeals to our 75% and over repeater rate. A nice club like atmosphere with the well known HAL service and outstanding sea going qualities. I am looking forward to returning when we go around South America for a 65 day Grand Voyage.
Please check my blog occasionally in the coming months. I am hoping to add a number of ships histories to the blog side, including the two most famous ships that we had; the Nieuw Amsterdam of 1938 and Rotterdam of 1958.
In the mean time I leave you with a beautiful photo of the Prinsendam taken in June 2009, when we stayed in Oslo until midnight.
Tot Ziens.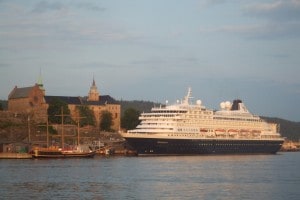 Photo courtesy: Andrea Consentino, Crew Purser ms Prinsendam.