As we had done for the stretch from Juneau to Skagway, we did for the Skagway to Glacier Bay route. Sail around a mountain range again by going down the Lynn Canal and up into Glacier Bay. So that is what we did during the night. The Zaandam came racing by as she had a longer stretch of distance to cover because she had to go to Tracy Arm which is south of Juneau. We will see her again tomorrow. Once out of the Lynn Canal you turn into Icy Strait. Named so by Capt. Vancouver in 1793 when he sailed there, basically because there was a lot of ice around. Ice produced by the Glaciers that covered the whole of what we now know as Glacier Bay. With the retreating glaciers the ice disappeared and only the name remained. We entered the inlet at 06.30 to pick up the Rangers at 07.00 hrs.  Although the pick up area is located only 5 miles inside the Bay, it took 30 minutes to get there as we had "Whale Waters".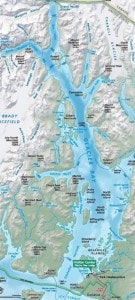 This is a designation that is given to the area when speed restrictions are imposed. Normally you are allowed to go up and down the Bay with a maximum speed of 20 knots. However the Rangers are keeping a close eye on the arriving whales and if the count & concentration goes above a certain level then a speed restriction order goes out. That happened yesterday and it limited our speed in the lower bay area to 13 knots through the water. Once you are further up the bay, there are fewer whales and then we can go faster again. Not a problem in principle as long as we know about it and can adapt our sailing plan accordingly.
As mentioned yesterday I was expecting 10 people and they all hopped on board. Apart from the two regular rangers and the wild life observer (who camps out on the bow all day) there was the Indian Tribe representative, a few trainee's and two supervisors. The season is just starting up and thus everybody is getting organized and checking if all the plans made during the long winter months will also work in practice.
We normally run a standard program that has been tested through the years and it seems to work best for both sides. It makes it possible for the Rangers to show Glacier Bay as they want & need to do and it makes it possible for the cruise ship crew to stay with and deliver the schedule.
That schedule is  to go straight up to Marjorie Glacier which takes about 3.5 hours, depending on the ice. There we stay for an hour and then we sail towards Lamplough Glacier with maybe a quick look inside John Hopkins Inlet, depending on the ice. After having spent four hours in the upper bay (which is part of the agreement that we have with the National Park of Glacier Bay) we sail back to Bartlett Cove where the Rangers disembark. On at 07.00 hrs. Off at 1600 hrs.  While we sail up and down the Bay, the Rangers do presentations, have a desk & shop in the crows nest and mingle around the ship with the guests.
Depending Ice. That is my challenge. And you never know how much ice there is until you get there. In the early spring, there is not that much floating around; it is still clogged up in John Hopkins which produces the most of it. In high summer the ice melts fast and then there are only scattered pieces. The time in between is when you have the most issues. Today we had a combination. A lot of slush that really does not bother us and a whole solid ridge of heavy "ice cubes" that blocked an approach to Lamplough and John Hopkins inlet. Not nice, but every cloud has a silver lining.
Today there were no clouds but a lot of sunshine and a cold northerly wind blowing down over Grand Pacific Glacier. That made it a bit chilly but it also blew the ice away from Marjorie glacier and thus I could sit there with the ship nice and close in and watch the calving of the glacier.
It was a very nice day today and a good start of the season as we saw whales, ice calving, stellar sea lions and with the cold air, the Fair-Weather Mountain range towering over Glacier Bay.
Once out we sail back through Icy Strait and during the night we will head for Ketchikan. I expect to start making my approach at 09.00 and that will take an hour, as there are speed restrictions as well in the Tongass Narrows, the water that gives access to Ketchikan. In Ketchikan it rains 332 days of the year but tomorrow it will be dry.