2002 Prinsendam (II)
COMPANY: Royal Viking Line.
TONN. BRT: 37,485                                 NRT: 14,045                         DWT: 6,150
BUILT AT: Oy Wartsila Marine Industries Abo, Finland.
BUILT IN: 1988                                           YARDNO: 1298
ENGINES: Four 8 cylinder ZAL40S Wartsila Sulzer diesel engines.
ENGINE OUTPUT: 28,552  BHP/21,120 KW                             PROPS: Two (Pitch)
SERVICE SPD: 20.5 Knots.                   MAX. SPEED: 21.8 Knots.
LENGTH.O.A: 204,00 Meters.            LENGTH B.P.: 171,50 Meters.
BEAM OA: 28.90 Meters.                     DEPTH : 9,90 Meters ( top of WTD deck)
DRAFT: 7,25 Meters at 21,410 displacement in salt water
PAX.CAP: 768 (lower beds) in 380 cabins.
CREW: 469
SISTERSHIPS: None
NAME BACKGROUND: Company nomenclature starts with Royal Viking
REMARKS: Ice Bow. Two bow thrusters each 1300 HP. One retractable stern thruster 1300 HP.
——————————————————————
HISTORY:
Constructed of steel with 6 full decks as a purpose built cruise ship. The project was announced under the work name of Royal Viking Excelsior. The ship was ordered on 26 Jan. 1987 and completed with a construction cost of US 125 mln. Named in 1988 as Royal Viking Sun. Floated out of Drydock in May 1988 and delivered on 26 November. Registration for Kloster Cruise Ltd. Nassau. Maiden voyage Turku to Greenwich 29 November. Baptised on 8 Jan. 1989 at San Francisco by the actor James Stewart. Followed by an 100 day inaugural worldcruise. Worldwide luxury cruising.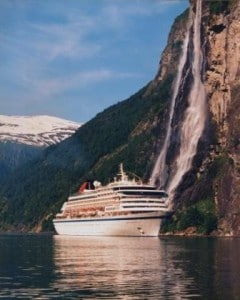 The Royal Viking Sun during an Scandinavian Cruise – RVL publicity photo
Royal Viking was bought by Cunard White Star Line of Nassau on 30 June 1994. This purchase included the brand name and the goodwill. Marketing took place under the header: Cunard/Royal Viking Line. The ship ran aground on a reef in the Red Sea on 4 April 1996 and as it started to take on water it was beached until the damage could be assessed. All Pasengers were flown home from Jordan. An amount in the region of US 23 million. had to be paid by Cunard to the Egyptian authorities for damage caused to the reef. Only then the ship was released and allowed to sail for dry dock. The ship arrived on 22 April in Valetta, Malta, for repairs and returned to service on 12 June 1996. As a result of an investigation into the reason for the grounding, the Captain resigned and the officer of the watch was dismissed.
Cunard was acquired in August 1998 by Carnival Cruise Lines and the Cunard luxury ships were merged with Seabourn. As a result the ship was renamed on 26 November 1999 in Seabourn Sun. Brought under the Norwegian flag after a refurbishment at Lloyd Werft which lasted from 3 to 23 November 1999 and costed US 15 million. Major work was done on the Heath Spa, the Garden Café, the Midnight Sun lounge and all cabins received new fittings. The ship returned to service on 27 November 1999. However it soon turned out that the ship, much larger than the other Seabourn ships, did not fit in the Seabourn setup. This was also the case with the two SeaGodess ships that were part of the Cunard take over. As result the two Sea Godesses and the Sun were removed from Seabourn.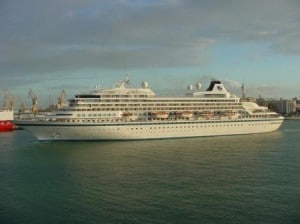 The Seabourn Sun, leaving Cadiz in Spring 2001. Photo taken by author from the Bridge of the Noordam (III)
On 23 March 2001 it was announced that the ship would be switched to Hal with a delivery in April after the completion of the worldcruise. Hal took over the ship on 23 April 2002 (Registration for Holland America Line, Antilles N.V. Rotterdam) and it was sent for a conversion dry-dock to Detyens International shipyard in Charleston, NC. Dock. For a few days it was docked next to the Nieuw Amsterdam (III) which was laid up there after having been returned from the bankcrupty of the United states Lines. A few days later the NA would sail for Greece to start a charter for Thomson Cruises. Work on the Prinsendam (II) included adding 14 Lanai State rooms by removing one public room (the Midnight Sun Room) increasing the ships capacity to 793 lower beds. The diningroom was reduced in size as ship went from one seating to two seatings. New additions were an Ocean Bar, Internet café, Art centre, Sprinkler system throughout the ship, a Neptune lounge and completely refurbishing the other Public Rooms. Total Cost went over US 22.5 million.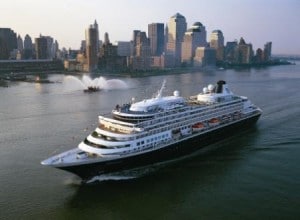 The ms Prinsendam (II) leaving New york on its maiden voyage for the company. HAL Publicity Photo
Its maiden HAL cruise was a gala 10-day transatlantic crossing, departing New York for Southampton (London) on June 3. This after the ship had been open to travel agents and had been christened by three HAL employees as representatives of all the HAL employees (approx. 8000). New York City Mayor Michael Bloomberg issued an official proclamation naming Monday, June 3, 2002, "Prinsendam Day." This Gala cruise had a big band theme, featuring Guy Lombardo's Royal Canadians and called at Halifax, Nova Scotia, Cork, Ireland and Plymouth, England. From Southampton the regular cruises started, beginning with a Baltic season. Nicknamed the "Elegant Explorer" the ship was sent on worldwide cruises with seldom one cruise being identical to the other.
The Prinsendam underwent a 30-day refurbishment at Grand Bahamas Shipyard between 24 November and 15 December 2007. US 20 million was spent on new bathrooms in all the cabins, closet space, cabin furniture, a new explorations café, expansion of the shopping promenade and (SOE upgrade) of soft goods. A new Stuyvesant Room was created to serve as a meeting room, with the option to act as space for Club Hal. A larger library was installed as well. Together with the delivery of the last soft furnishings, the project was completed on 16 Jan. 2008.
On 22 July 2009 the addition of 22 cabins on the stern of the ship (deck 8) was announced to be installed during the next dry dock 4 to 14 jJan. 2010.  Steel construction was completed on departure from the yard on 13 Jan. and the interior was finalized during the 70 day around south America cruise. Cabins were delivered on 4 February to the first paying guests during the call at Valparaiso. The deck above the cabins was widened with the addition of a new outside bar. (This was the former bar of the ms Rotterdam VI whose whole Lido deck was revamped under the SOE program.)  Maximum 835 guests. in 419 cabins 37,983 brt.
Other upgrades included, refurbishing the midships Lido pool area, recarpeting the atrium and public rooms. Plus a revamp of the Fitness area adjacent to the enlarged outside deck with a larger exercise room and remodeled treatment rooms.
During the last week of may 2018 rumours came out of Germany that the ship had /was to be sold on 1 July 2018 to Phoenix Reisen with a delivery in May 2019. The ship was to be chartered back to Holland America. Phoenix planned a 40 million euro investment in the ship which included new engines.
On 2 July 2018 Holland America Line officially announced that Prinsendam had been sold and will leave its fleet July 1, 2019 and transfer to the German cruise company Phoenix Reisen.
Following the sale, the 37,983-ton, 835-guest Prinsendam is being chartered back to Holland America Line to continue sailing its planned voyages through July 1, 2019.
Prinsendam's itineraries from July 1, 2019, onward are scheduled to be assimilated by Rotterdam, Volendam and Veendam. Holland America Line is reaching out to booked guests and their travel professionals to re-accommodate guests on these cruises.
Phoenix Reisen is a Germany-based travel agency that also operates a fleet of cruise ships and first began operating cruises under its own brand in 1988. Today, its ships include ms Amadea, ms Artania, ms Albatros and ms Deutschland, and the company also operates approximately 50 riverboats.